Architecture of the Hindu, Buddhist and Chinese Worlds
HINDU TEMPLES: INDIA
The faith of reincarnation and karma has inspired some of the grandest structures ever built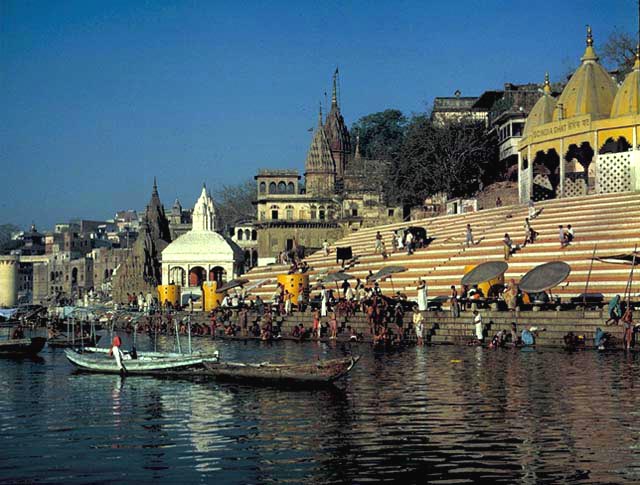 India's great Hindu temple of Benares on the Ganges River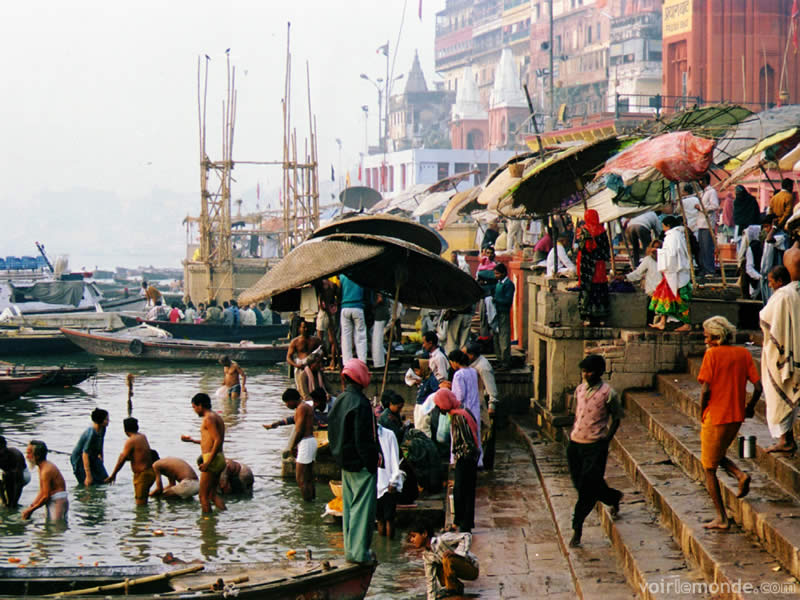 The faithful swim in the Ganges during their pilgrimage to Benares, now called Varanasai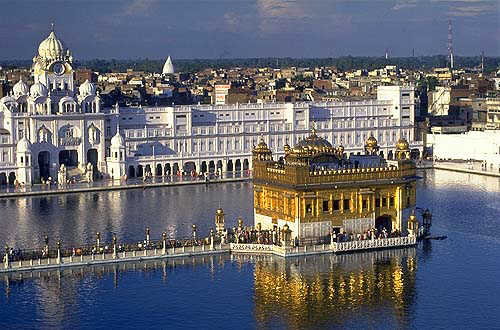 The Amritsar Palace of India, with its famous golden building and bridge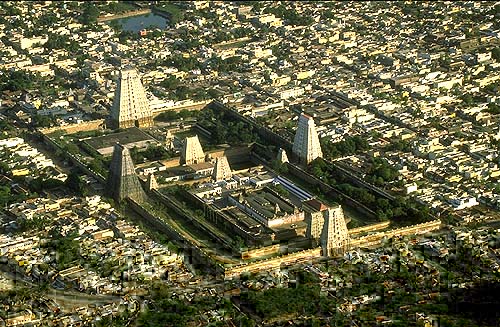 The largest Hindu temple in the world is this, where millions visit every year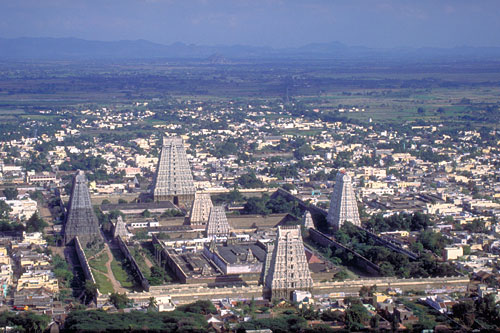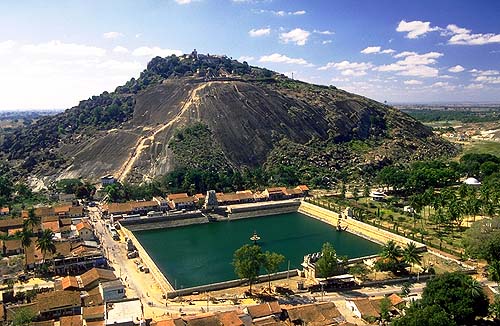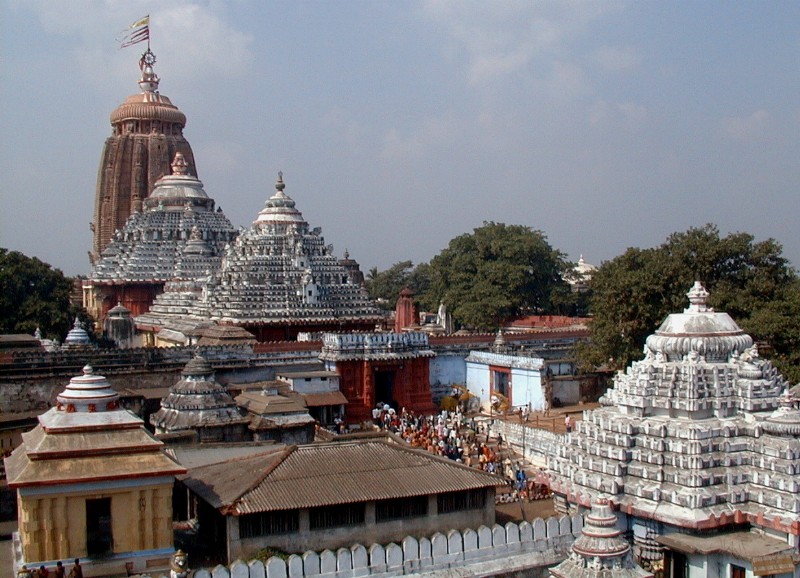 The Jagannath Hindu Temple in India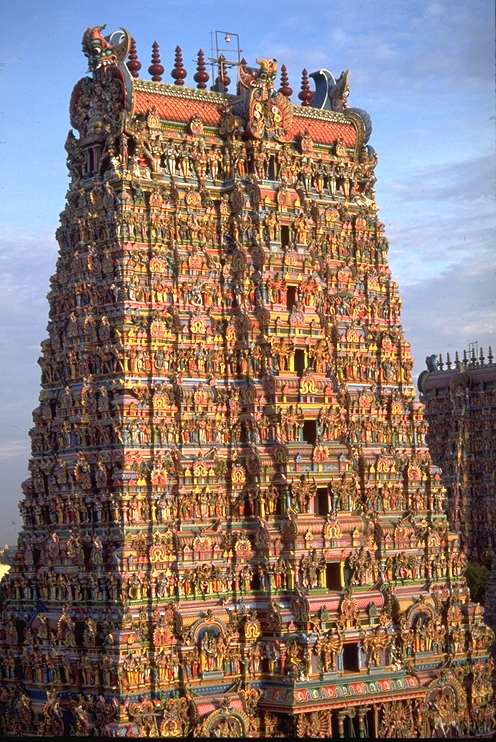 The stunningly detailed Hindu shrine at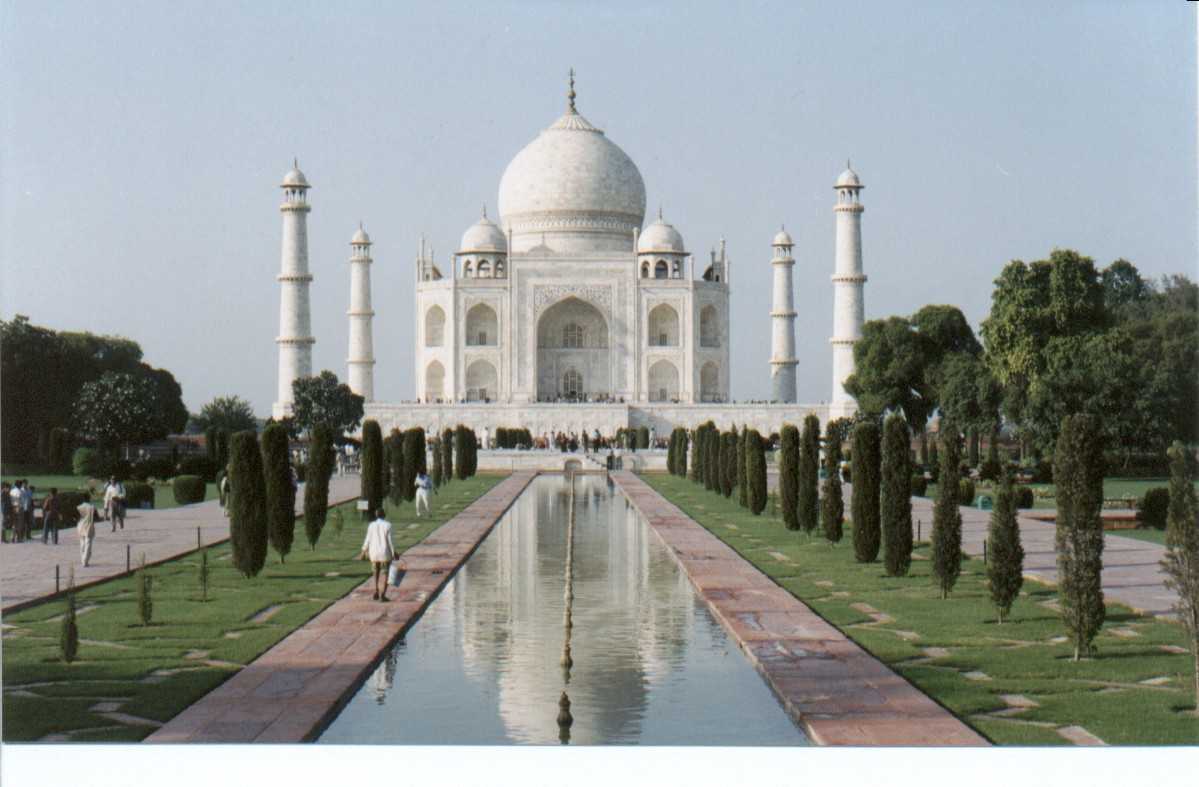 Greatest of all India's buildings, the Taj Mahal of Agra- built as a tomb and shrine
BUDDHIST SHRINES: SOUTHEAST ASIA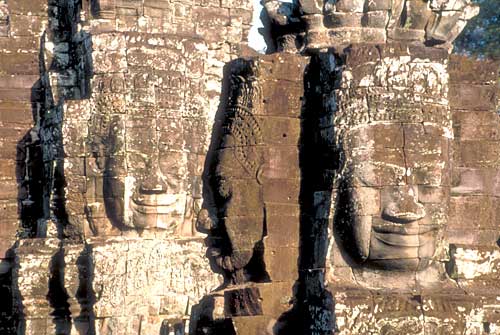 The famous faces of Angkor Wat, in Cambodia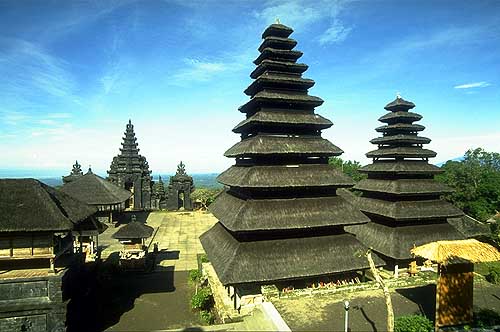 Buddhist Temples in Bali, Indonesia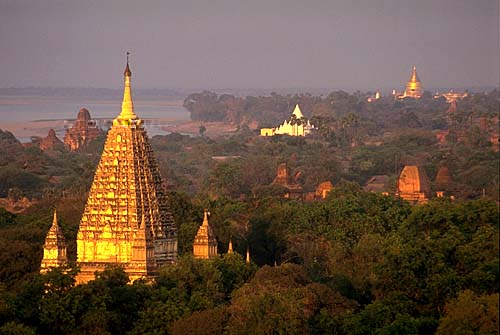 Grand scenery of Buddhist shrines in Burma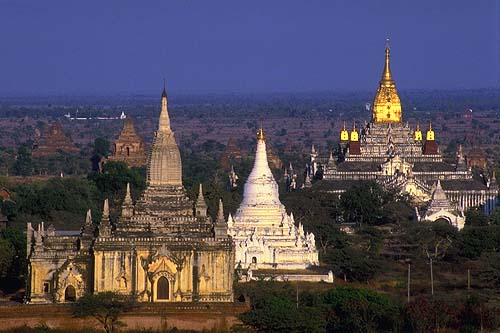 A closer look at the shrines in Burma, one of the great religious centers of all Asia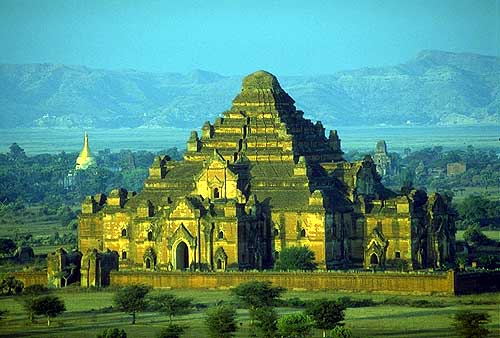 The Burmese shrine of Bagan, one of Buddhisms holy places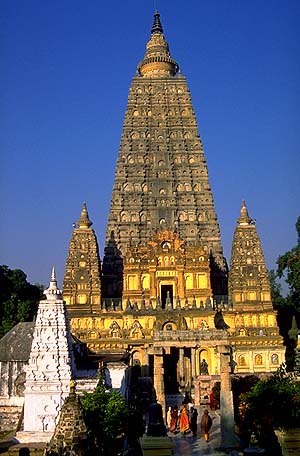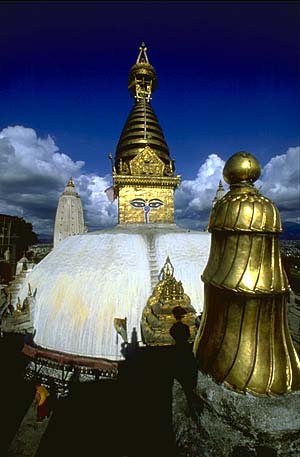 The Mahabodi Buddhist Shrine in India and Nepal's equivalent, high in the Hemalaya Mts.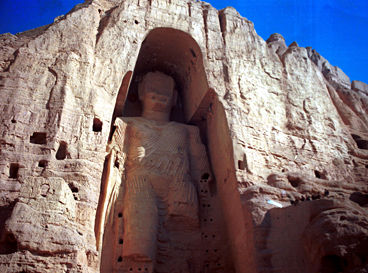 Afghanistan's greatest relic was this huge sculpture of Buddha, sewn into the side of a cliff.
It reminded all of a time when there was peace in the world thanks to the way of the Buddha.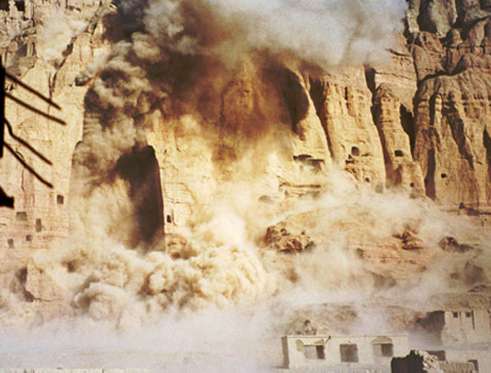 Before the USA moved into Afghanistan in 2002 and dismantled its government,
the great statues were destroyed by the Islamic fundamentalist Taliban on purpose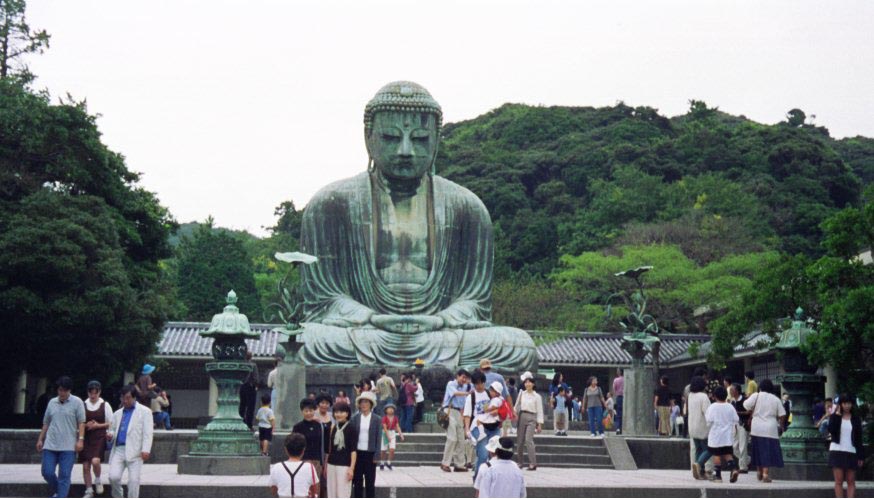 The most famous of Buddha's sculptures, at Kamakura in Japan, has withstood many earthquakes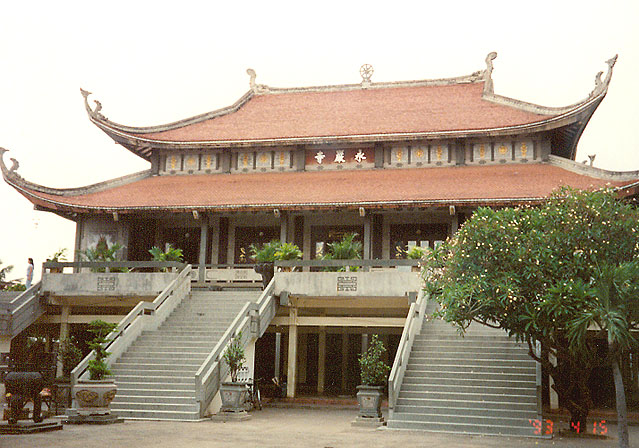 The great Buddhist Temple of Saigon, Vietnam (Ho Chi Min City)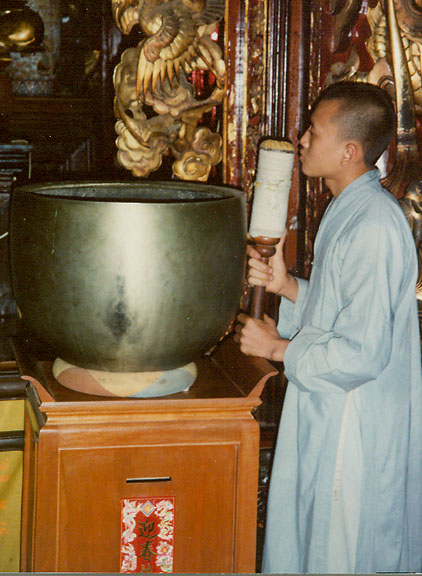 A young Buddhist monk inside the Temple in Saigon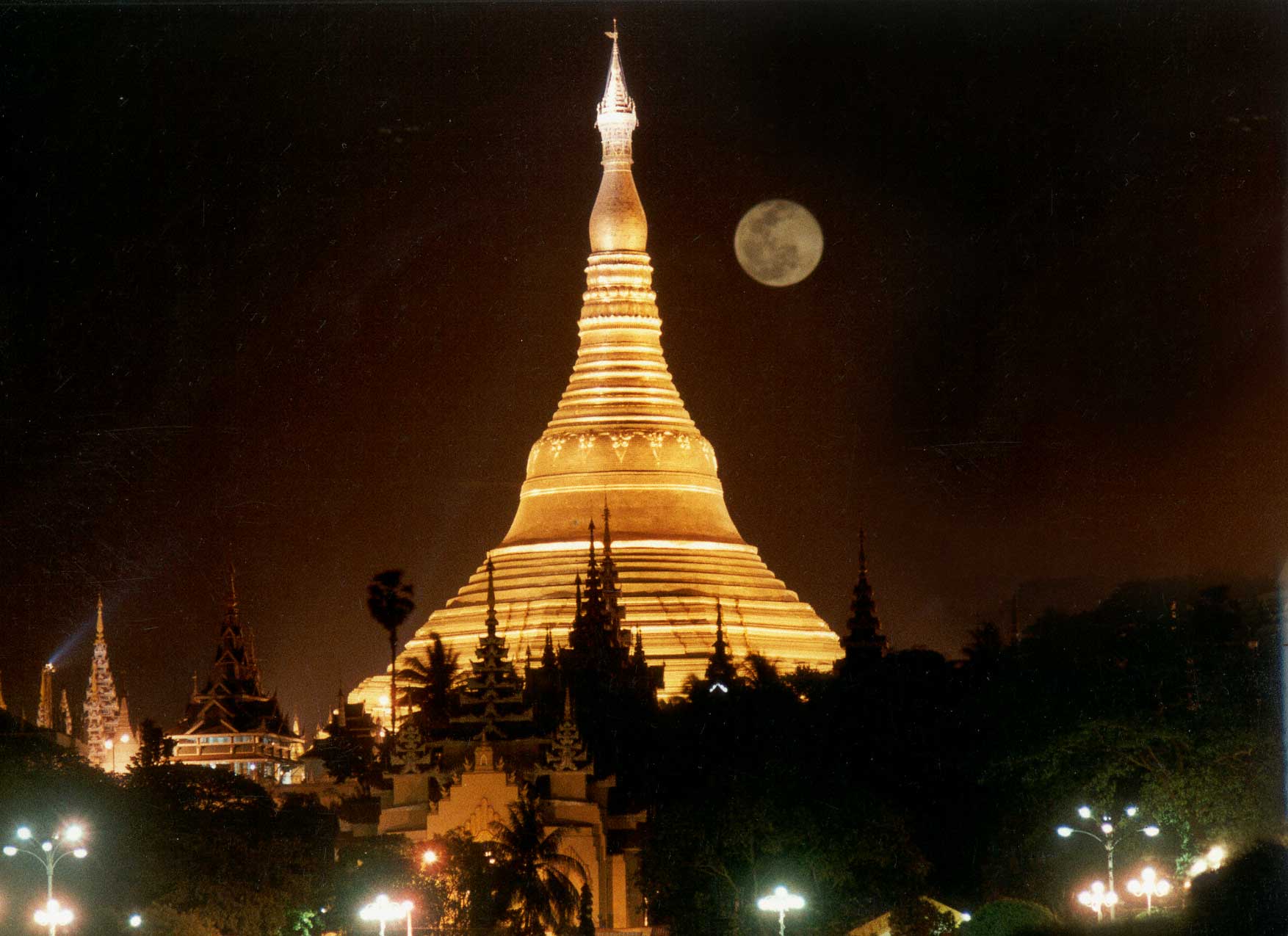 The stunning Buddhist shrine in Bangkok, Thailand almost seems from another world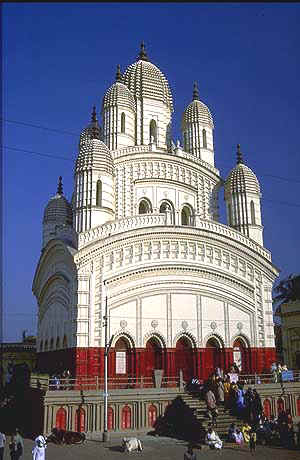 Hindu temple painted in white in Calcutta, India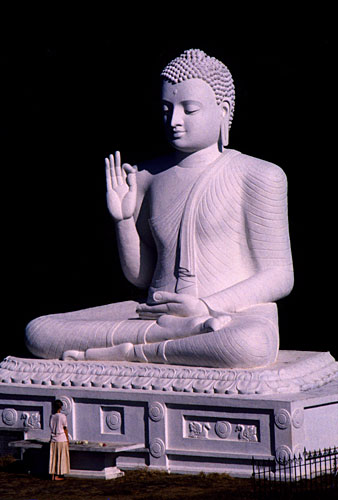 Famous Buddhist statue from Ceylon (Sri Lanka)- at peace and in focus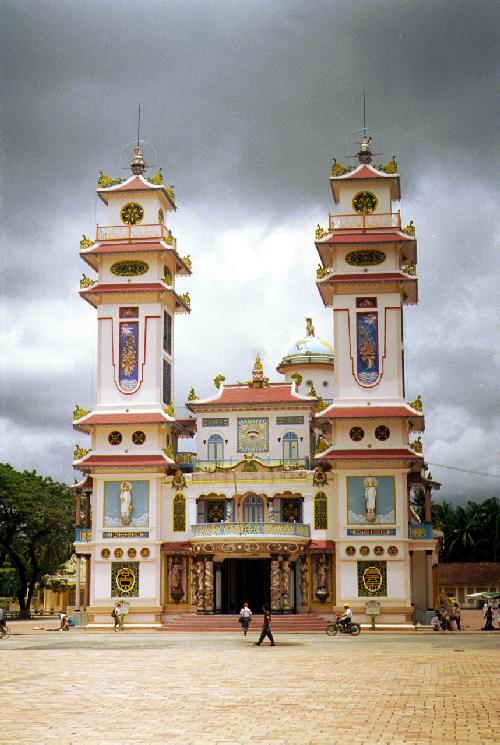 This Temple of Codai in Vietnam almost seems like an oriental cathedral!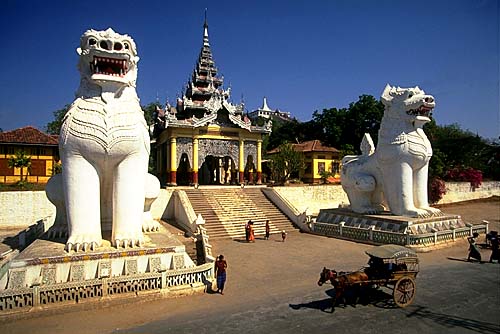 Mandalay in Burma has a complex temple guarded by these creatures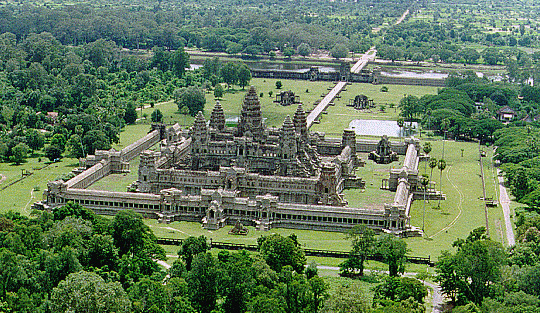 Recently, the Cambodian Gov't and UNESCO have cleared the foliage for tourism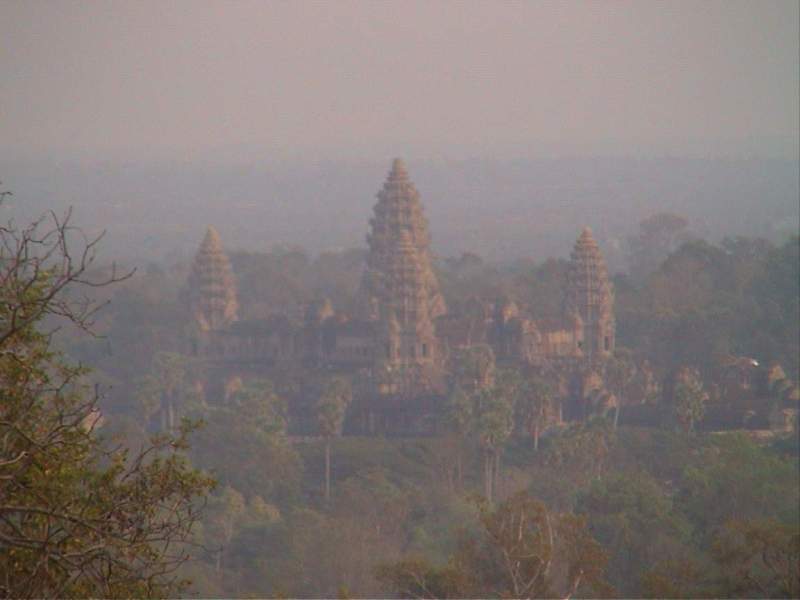 The great temple of Angkor Wat in Cambodia has lain in the jungle untouched for centuries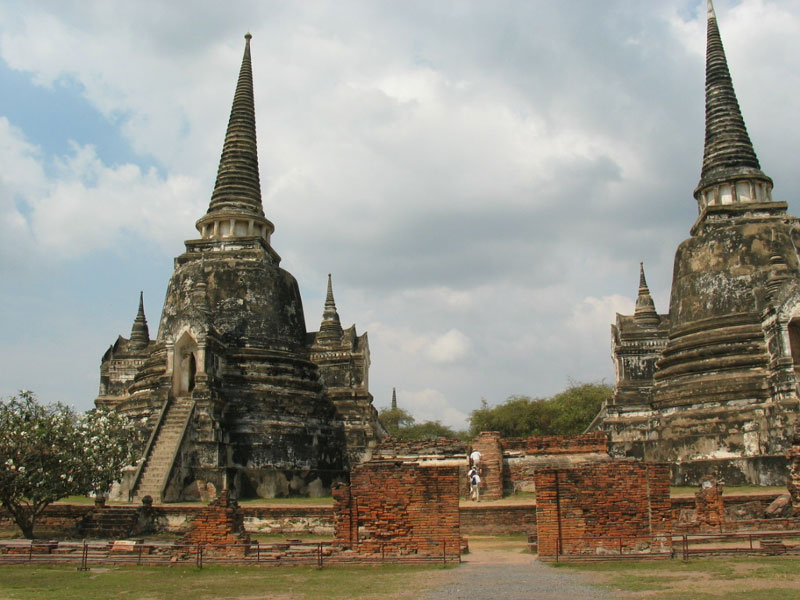 In Thailand's countryside lies this Buddhist temple, part ruin and part solitary shrine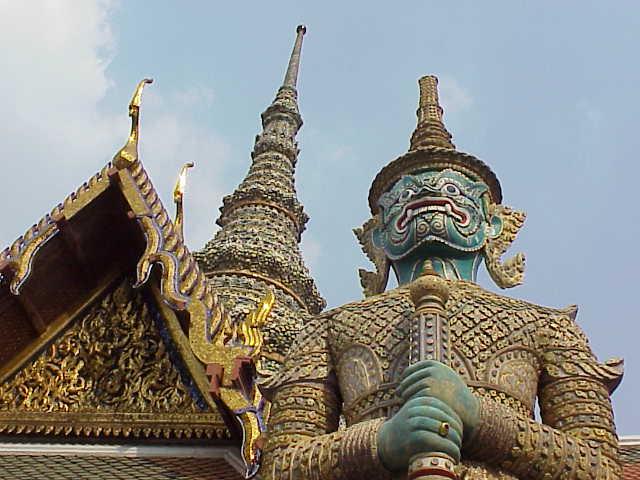 Inner Peace is the key concept in Buddhist philosophy, and here in Bangkok, Thailand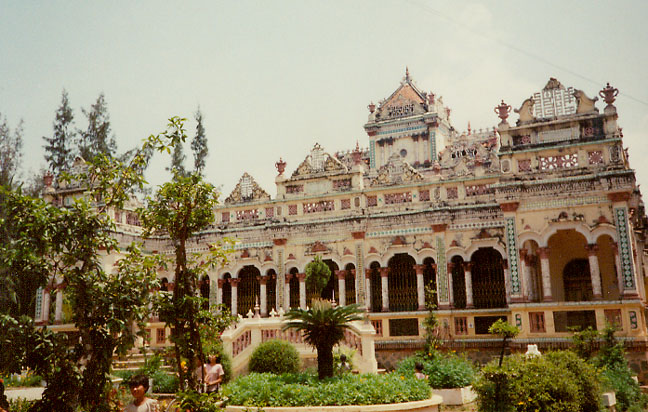 This temple in Vietnam is famous for its detail as well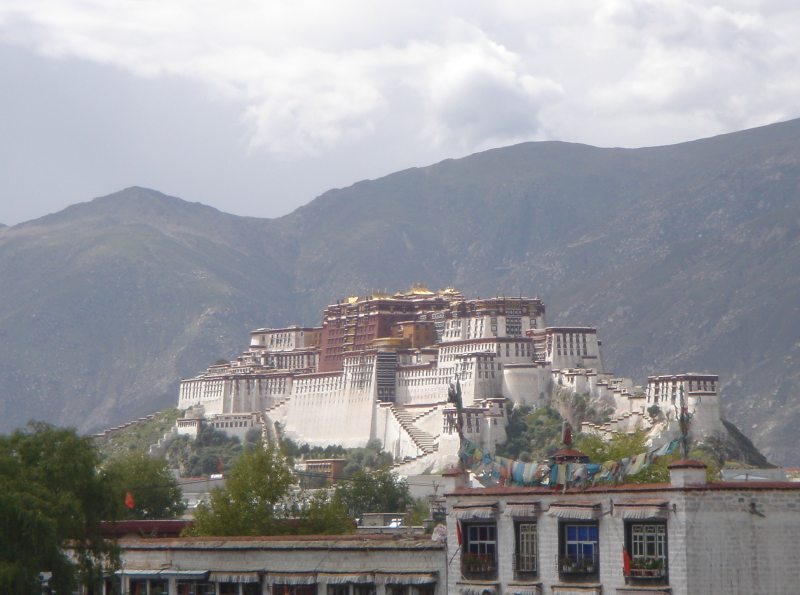 At the top of the world lies Tibet, and the Buddhist shrine of the Dalai Lama at Lhasa
This is one of the world's most isolated spots
GREAT BUILDINGS AND STRUCTURES OF CONFUCIAN CHINA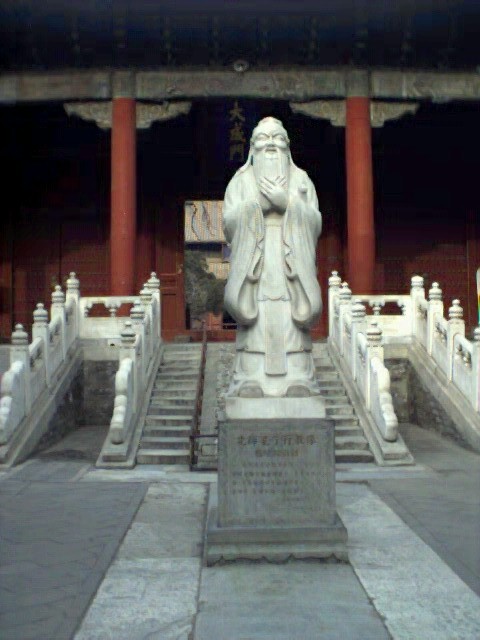 At the grave of Confucius, his statue stands scerenely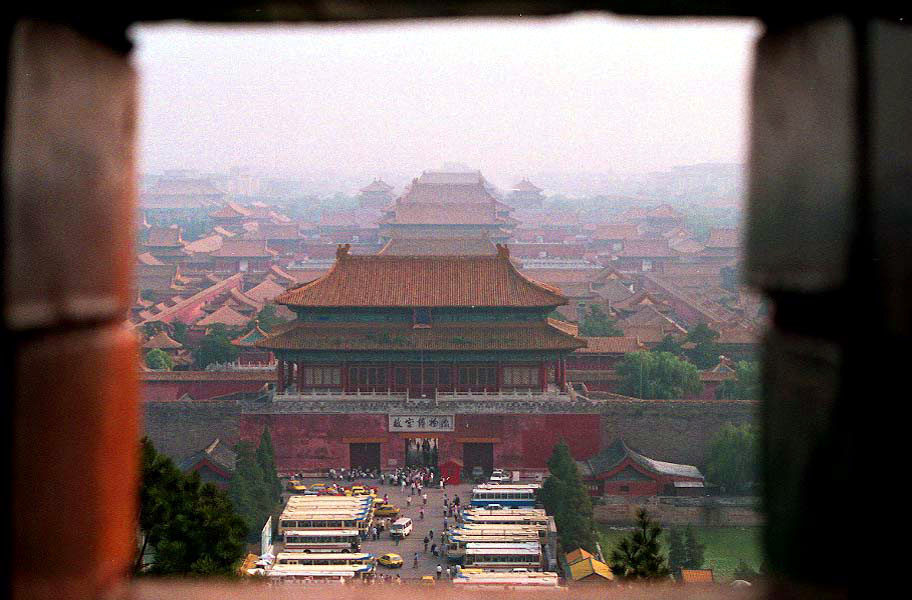 The Forbidden City in the land of Confucius, China. This was the home of the Emperors until the communist takeover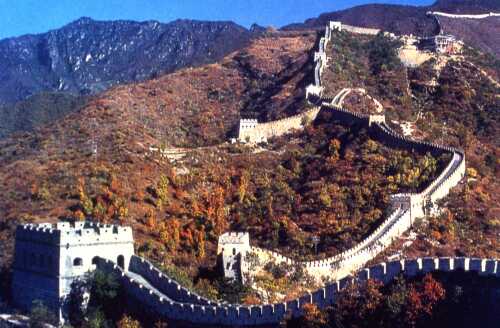 China's most famous landmark, the Great Wall separating Mongolia from China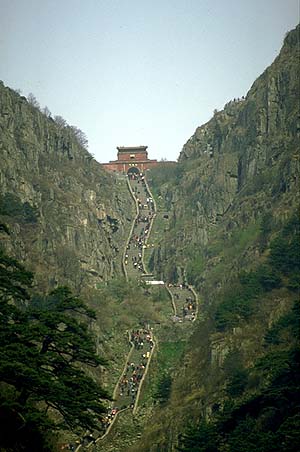 China's 'Stairway to Heaven' at Tai Shan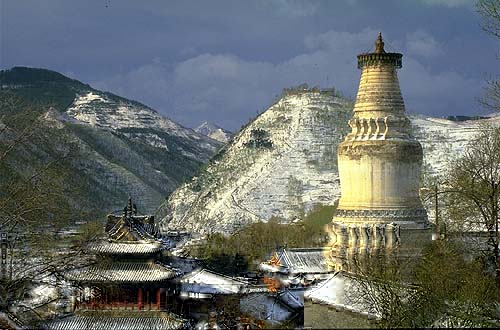 The snowy peaks of Confucian holy temples on Tai Shan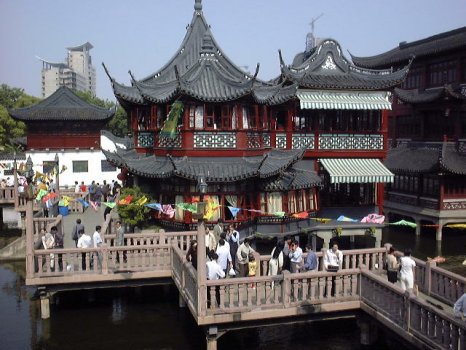 "...I wouldn't skip history class for all the tea in China!"
This familiar saying comes from the fact that in the 1800's China was a great tea exporter to England
and the USA. It was kept here in this tea house in Shanghai on the seacoast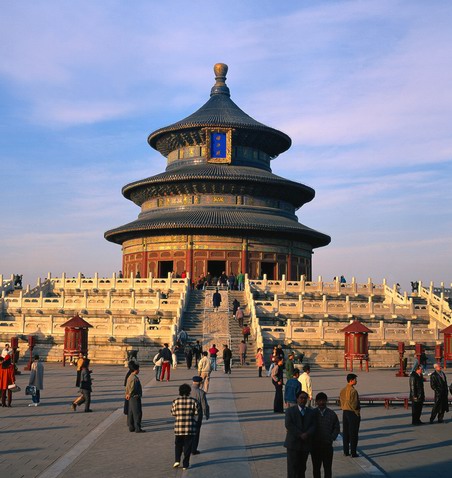 The Temple of Heaven in Beijing, China's capital city
Fast forward to Art of early Medieval Europe---->