__2. GETTING TO HUDSON
---From Out of State: Take I-75 south, get off at Exit 59, turn right (west) onto SR 52 and follow it until the end.
---From Tampa (and the Airport): take the Suncoast Parkway (589)
north to SR 52, turn left (west) and follow it to the end.
---From Tallahassee: travel south on US 19, Pass SR 50
and Spring Hill, cross the Pasco County line and watch for the sign.
---From St. Petersburg / Clearwater: Drive north on US 19,
pass New Port Richey and the bridge, watch for SR 52 and the sign.
---From the Pasco County Jail: take 41 to SR 52,
turn east towards I-75, look for the sign that says 'Miami' and keep going.
Most people pass right on through Hudson because from its main street, US 19, it looks unremarkable in comparison to its neighbors, Port Richey, New Port Richey, Holiday, etc. Yet, once you turn left or right off US 19, you find yourself in a different world from the seemingly endless strip of suburban commercial enterprise you were driving through. West is the waterfront village, and east are the nicely landscaped master-planned communities, such as Beacon Woods. Hudson is a jewel in the rough and recently featured as, nationally, one of the top 3 places in the United States for a vacation home.
(by The W.S.J.)
Click Here or on the WSJ icon for the story:

The Journal controlled for current value, local market, environment, appreciation and a variety of other quality of life factors. Among international destinations, Hudson ranked in the top ten, and nationally, the top three, along with Berkeley Springs, West Virginia (for DC commuters) and Pahrump, Nevada (outside Las Vegas).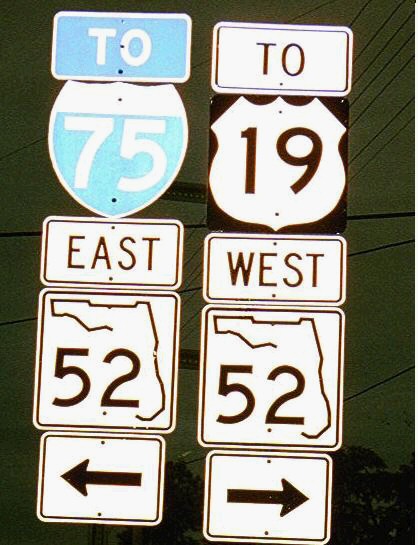 3. HUDSON'S 3 AREAS
Greater Hudson is actually very large. It covers somewhere around 50 square miles in northwest Pasco County. It is bound by SR 52 in the south and County Line Rd. in the North, and the Gulf of Mexico on the West, of course. To the east, it does not have a set boundary, but more of a frontier where it merges with Moon Lake and Land O' Lakes to the southeast, Shady Hills and the new Suncoast Parkway to the east. Aripeka is a tiny village encompassed by Hudson in the northwest.
This large estate is divided into three distinct qualitative areas:
Zone 1) Waterfront Area (3 sq. miles)
This was the original settlement of the area. It was settled beginning in the 1870s, when a post office was installed an named after the man who owned the house in which it sat: Isaac Hudson. Today, completely hidden from the highway, Hudson's Gulffront village is still realtively unknown. Click here for more about the neighborhoods in Zone 1.
Zone 3) Old South Area (40 sq. miles and shrinking)
This vast interior of Pasco County has changed little in the past 50 years. Here there are still mostly dirt roads, older ranch and mobile homes, and many rural farmsteads. Horses, goats and cows make common sights even from the main roads: Hudson Avenue, Kitten Trail and East Rd. Up until the 1980s, rather all of Hudson was like this. It is likely that the area between the SunCoast Parkway and Hicks Road will be developed into Zone 2 suburban in the future, but for right now, it is country... and if one is to believe the natives... happy about that.
The Neighborhoods here are, for example, Parkwood Acres, Lakewood Acres and Sunrise Acres. Mostly, there are unclassified vast tracts of land not specifically divided into a planned subdivision. Zone 3 forms a huge #7 shape around the first two. There is a lot of open land here, and in order to preserve the quality of life in Hudson, some of it should probably stay open, even if it causes angst amongst seekers of fortune. This isn't China, after all.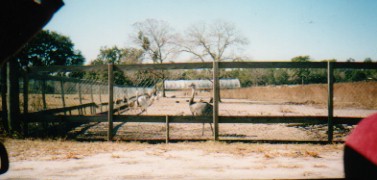 Old Country Hudson features horses, asses, and
hay available for viewing, right from the main roads
Here's a guy with ostriches, camels, zebras and all sorts of
wildlife, like a mini-zoo that no one knows about.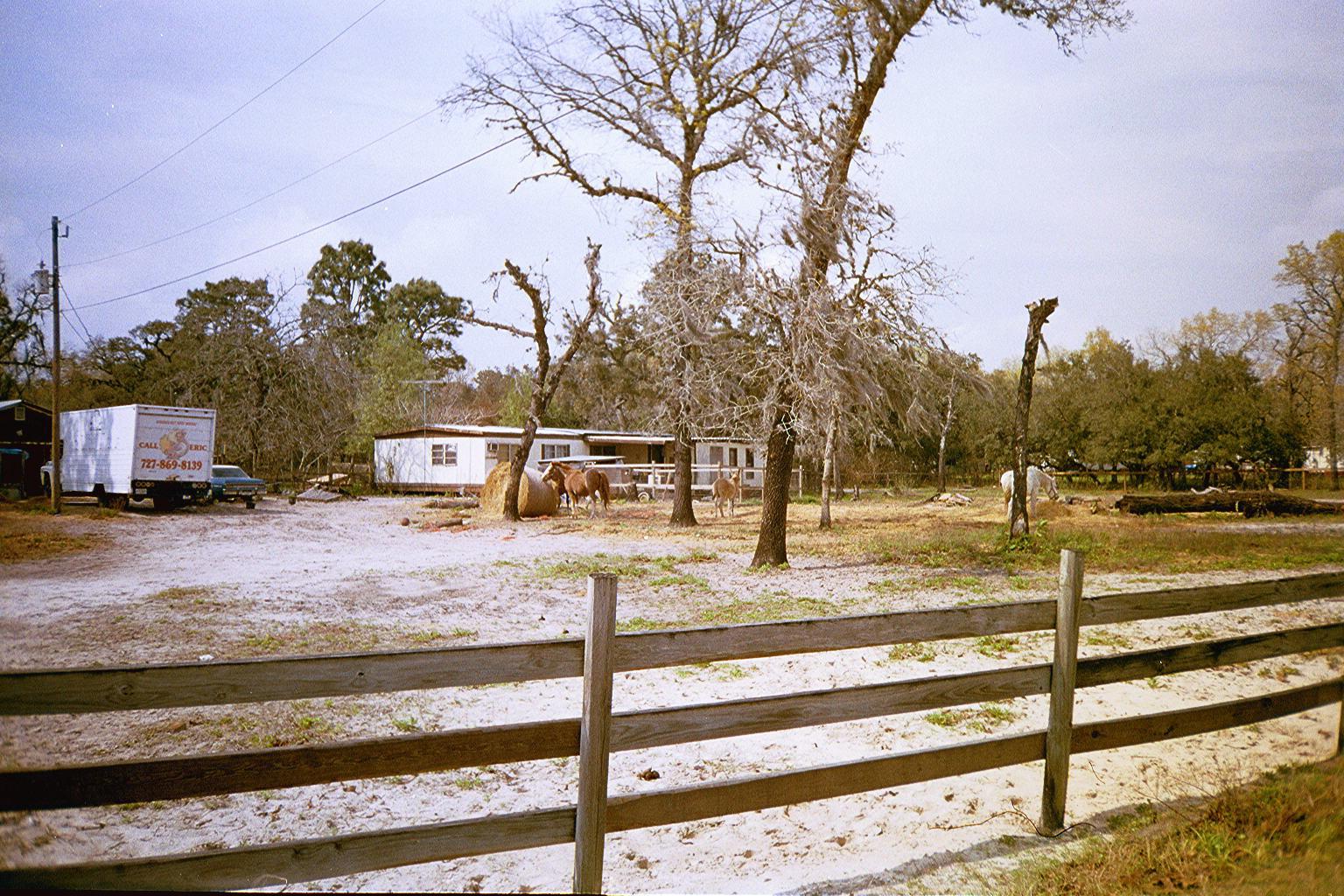 In this view of Eastern Hudson below,
you can see scattered homes and low density dwellings.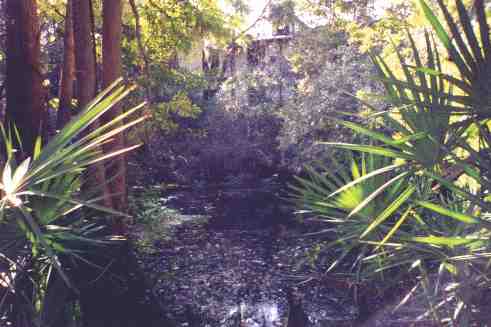 Entrance to the cave system: you have to go diving to get in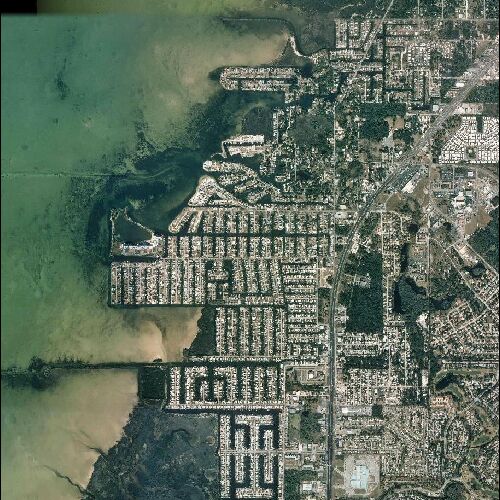 Zone 2) Suburban Area
(7 sq. miles and growing)
This central area of Hudson, located from the east side of US 19 to Hicks Rd., and from SR 52 in the south to County Line Rd. in the north, consists of beautiful, large master-planned subdivisions with golf courses and private clubhouses. Here you get a high degree of the safety and comfort factors desired by suburban families and retirees eager to escape the squalor and nihilism of urban America. Spacious homes with screened in lanais and award-winning floor plans line gently curving streets. As one might imagine, this 'Zone 2' is growing at the expense of 'Zone 3', the hinterland.
The residential homes here are generally divided up on a neighborhood level. To see more about these neighborhoods, complete with links where community associations and residents have webpages, please see neighborhoods in Zone 2.
Intrestingly, there is an amazing network of caves underneath the Beacon Woods Subdivision.
4. MAJOR ARTERIALS
Transportation in Pasco County (and Tampa Bay as a whole) is not one of the local chamber of commerce's `points of pride.' If you can avoid US 19 you can be safe... the problem is that you can't avoid it.
Even though Hudson has 4 north-south arterials: Old Dixie in the west, US 19 in the center, and Little Rd. in the center, and Hays Rd. in the east, it is US 19 that is really the main street. It is west Florida's major road, connecting Tampa Bay with Tallahassee, and used to be called the `West Florida Scenic Highway.' This side of the state was always less developed than the east-coast.
US 19 is the A1A of the west coast. Watch out though, grafting roads for the mass-automobile scale onto old fishing villages was bound to be problematic. US 19 is not on a human scale. It is a 6 lane divided highway built the old south way, without any rules. Careening cars, impossible turns, no curbs, and a `needs-improvement' streetlight system make this road stressful to drive on. Oh, and its been rated as one of the most accident prone streets in the U.S. by the federally funded `MeanStreets' survey, put out by the national traffic safety division. It was also a feature on `Dateline NBC' for this reason, in December 2002.
For regular users of this problem street, click the following for the government's postmodern solution:
Old Dixie meanwhile, is a much friendlier 2 lane `arterial' that used to be the old main street of old Hudson, until 19 was built. It is a lot smaller, and has waves crashing right up to the residential and commercial buildings lining it.
Little Rd. meanwhile, is at the vanguard of the developing city. It is around that road that many new subdivisions are going in or are already there, and the county just widened it to 6 lanes in anticipation of even more development, further inland. To the far east, Hays Rd. connects Hudson Ave. to SR 52 and the Suncoast Parkway.
So much for north-south. The east-west thoroughfares are State Rd. 52 in the south, Hudson Avenue in the center, and County Line Rd. in the north (which merges into SR 50, to Orlando).
These are the roads you will be asked to take during an evacuation emergency, but don't count on getting out. A word of advice: `It ain't happening.' Remember `duck and cover?' Like getting under your desk at school and covering your head with your hands would save you from the Russian A-bomb just detonated over your city? Same thing but with wind and water.