THE HUDSON WATERFRONT
NEIGHBORHOODS IN DETAIL
INTRODUCTION: HUDSON'S RESIDENTIAL INFRASTRUCTURE
Hudson now attracts recreation seekers, investors, realtors, vacation home buyers, water lovers, boaters, young couples and families like never before. There are a few identifiable types of houses from different eras in all of the waterfront neighborhoods. The canals were dug in the late 1950's and the oldest houses here are from around 1960. In the early 1980's the government banned building any more waterfront houses on the ground, as per FEMA regulations. So they must now be built on stilts in the air. While this new building style is more expensive, it is striking in result. Here are the types of houses in Hudson right now:
*The 1960's-70's single wide mobile home on the ground. Avg. $150,000:
Found in Cape Cay, Sunset Estates, Vista Del Mar, Signal Cove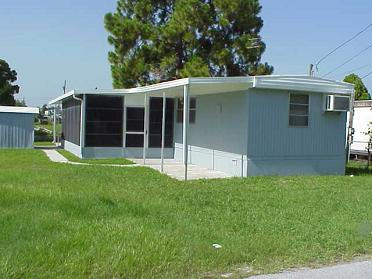 A typical 60's-70's mobile
*The 1980's-today regular mobile home in the air. Avg. $180,000:
Cape Cay, Vista Del Mar, Signal Cove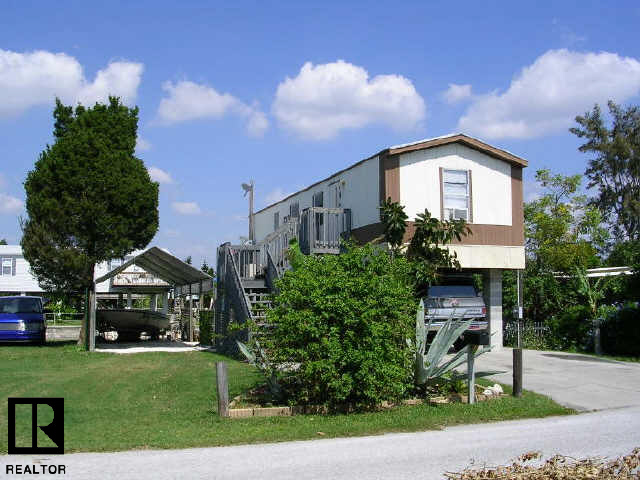 A typical 80's-today lifted mobile
*The 1980's-today double wide mobile home in the air. Avg. $200,000:
Cape Cay, Vista Del Mar, Signal Cove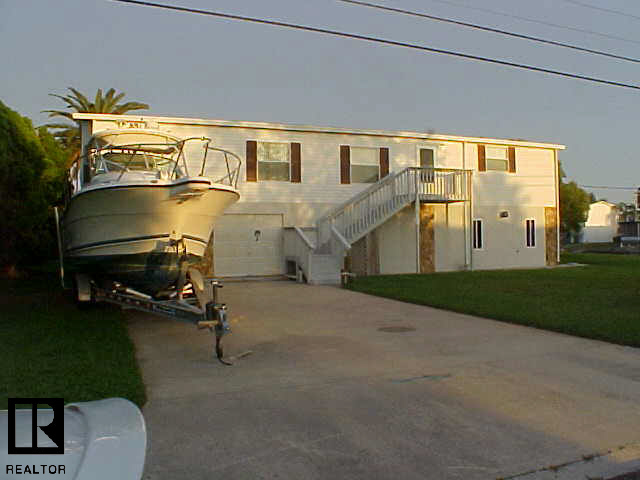 A typical 80's-today raised double sized mobile
*The 1960's-early 1980's single story ranch house on the ground. Avg. $300,000:
Sunset Estates, Port of Hudson, Hudson Beach, Sea Ranch, Leisure Beach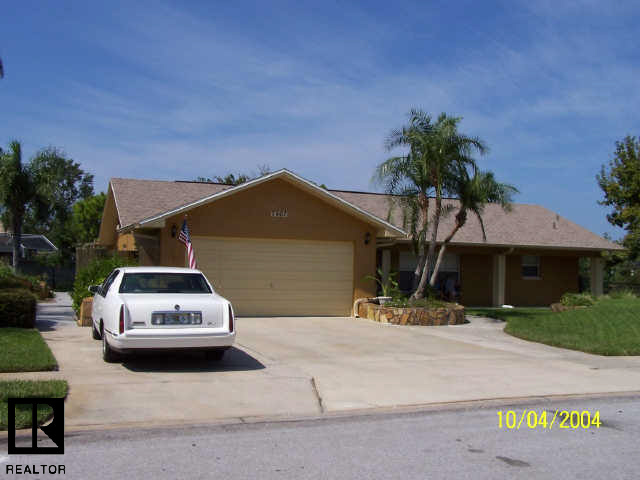 A typical 60's-80's ranch house
The late 1980's-today two story home in the air. Avg. $500,000:
Sea Pines, Driftwood Isles, Port of Hudson, Hudson Beach, Sea Ranch, Leisure Beach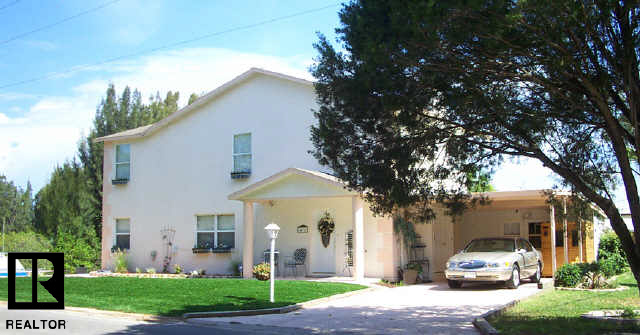 A typical 80's-today two story home lifted on stilts, enclosed
The 1990's-today three story home in the air. Avg. $420,000: Sea Pines, Driftwood Isles, Hudson Beach, Sea Ranch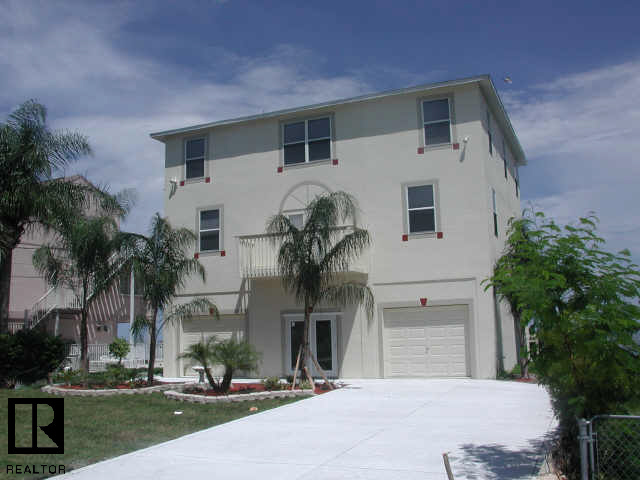 A typical tri-story from the 90's-today, enclosed
Empty lots. Avg. $120,000: A few left in every neighborhood, but not many. Most lots form the backyard or a side yard of a house. Here we see one used as a frisbee stadium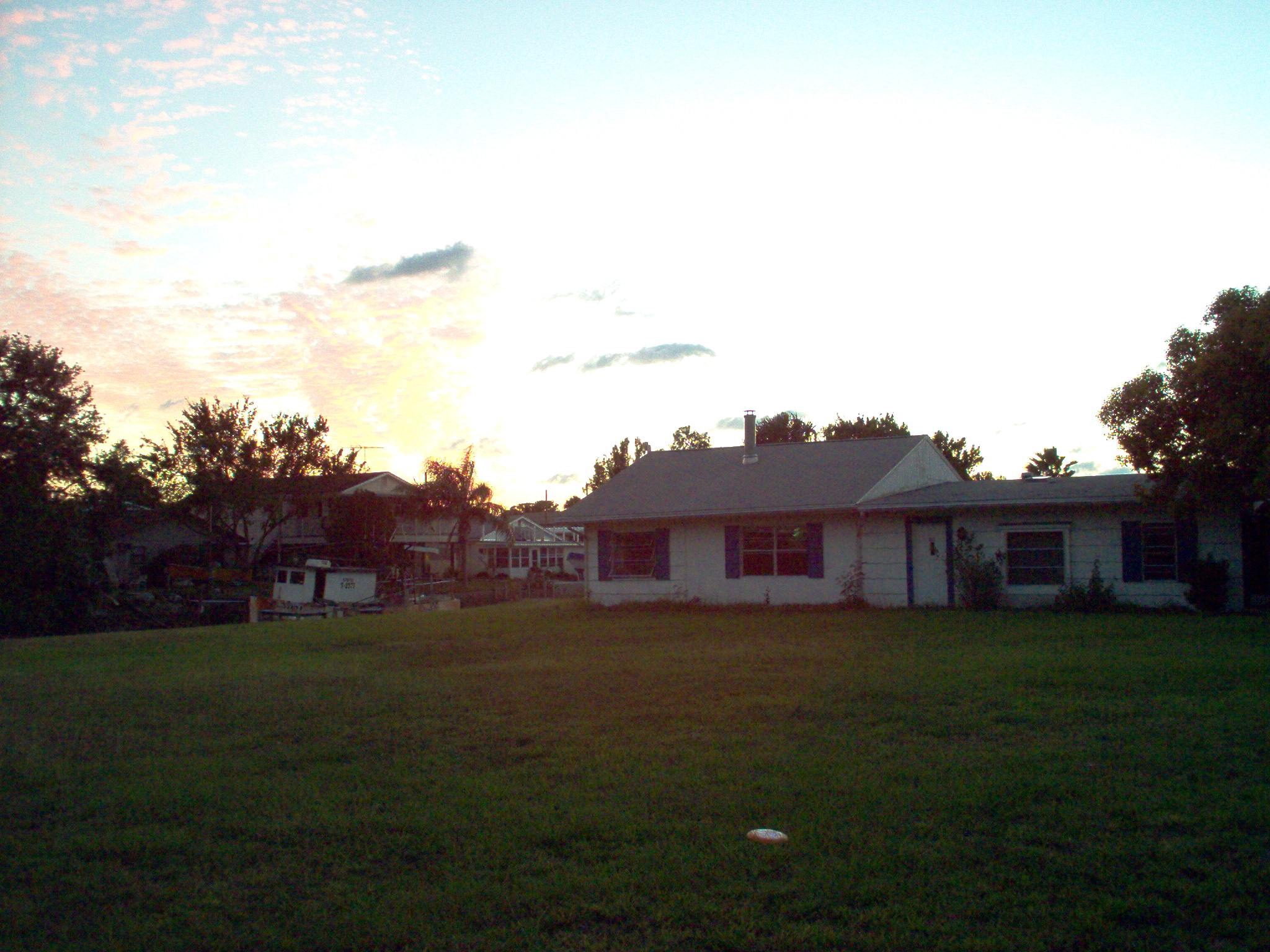 To See Properties for Sale in Hudson Beach now, Click Here
---
AND NOW, A NEIGHBORHOOD INDEX
SUMMARY
2005
| | | |
| --- | --- | --- |
| Overall | 3,465 Properties | $240,000 Avg. |
| | | | | |
| --- | --- | --- | --- | --- |
| NEIGHBORHOOD | Total Properties | Avg. Home Value 2005 | Avg. Home Value 2003 | Avg. Home Value 2000 |
| Driftwood Isles | 190 | $310,000 | $235,000 | $150,000 |
| Sea Pines | 440 | $280,000 | $240,000 | $140,000 |
| Port of Hudson | 160 | $230,000 | $190,000 | $130,000 |
| Hudson Beach | 250 | $230,000 | $175,000 | $110,000 |
| Sea Ranch | 750 | $230,000 | $165,000 | $110,000 |
| Leisure Beach | 330 | $220,000 | $150,000 | $100,000 |
| Gulf Island | 335 | $180,000 | $120,000 | $80,000 |
| Cape Cay | 175 | $150,000 | $90,000 | $35,000 |
| Signal Cove | 425 | $150,000 | $85,000 | $35,000 |
| Sunset Estates | 160 | $150,000 | $85,000 | $30,000 |
| Vista Del Mar | 250 | $140,000 | $85,000 | $30,000 |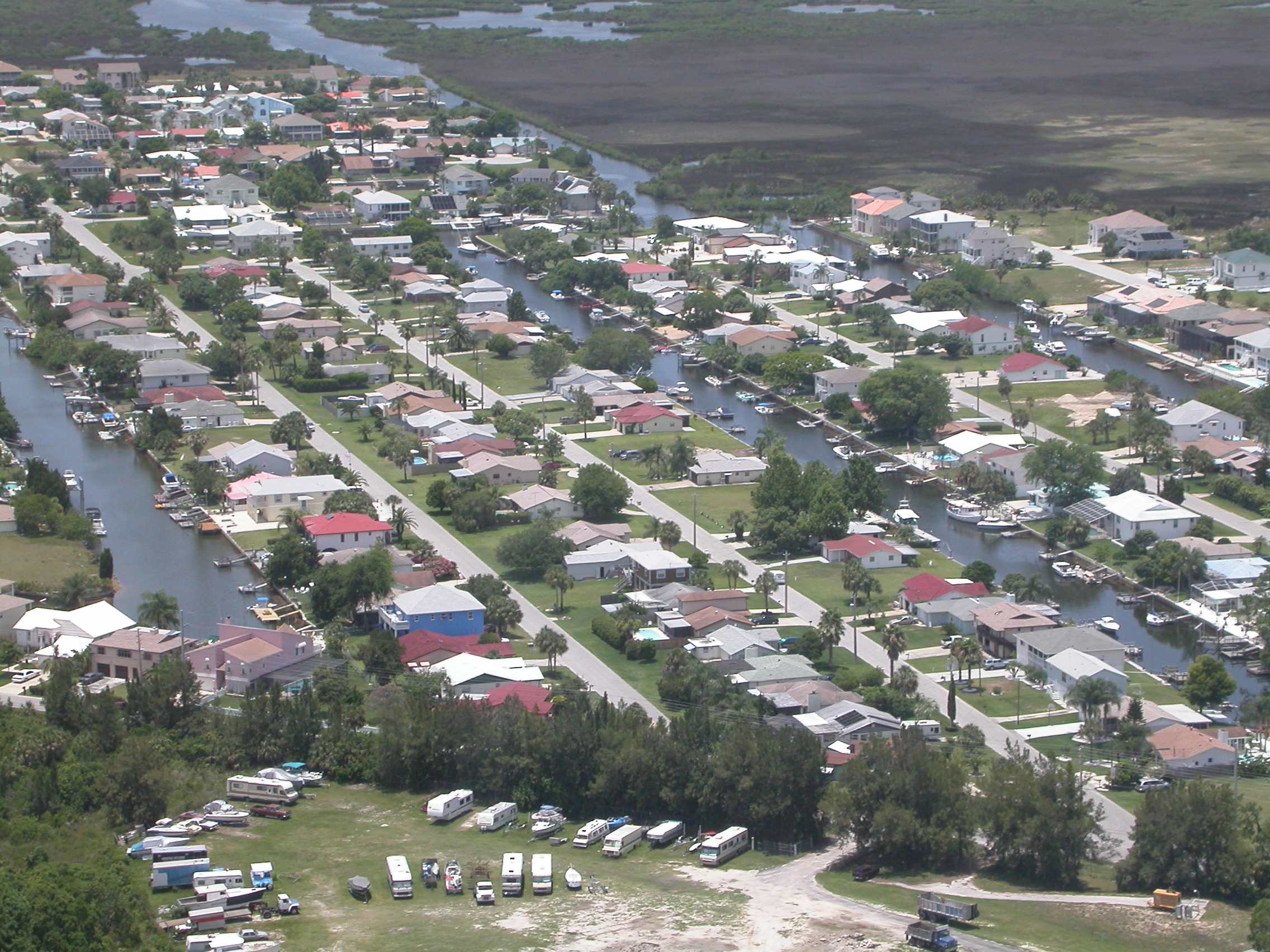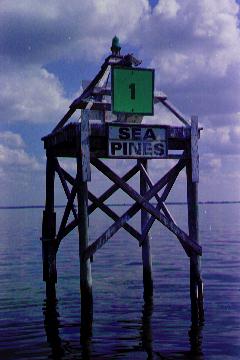 I. SEA PINES (click for website!)
Sea Pines is the newest and last development west of US 19. Begun just before the government halted the conversion of wetlands into usable residential space, it is separated from the rest of the neighborhoods by the SunCoast Seabird Sanctuary, and is the only deed-restricted neighborhood in town. The home values here are some of the highest also. Sea Pines has fine homes that are newer, well sculpted yards, and there are many nice boats parked behind these Ranch, 2 and 3 story homes. Residents of Sea Pines have their own channel out into the Gulf, as seen at left. Sea Pines has its own neighborhood council and security patrol as well. Southwind and Yachtsman are the main streets. Turn west off 19 on Sea Pines Drive and follow the signs. There are 6.5 units of canals.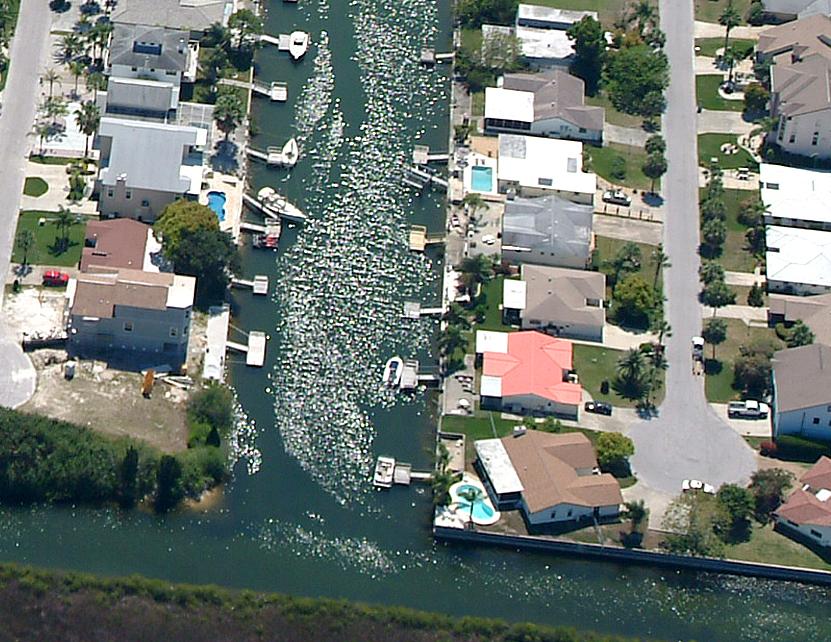 Another nice view of Sea Pines, in which a boat has left a shimmery wake
---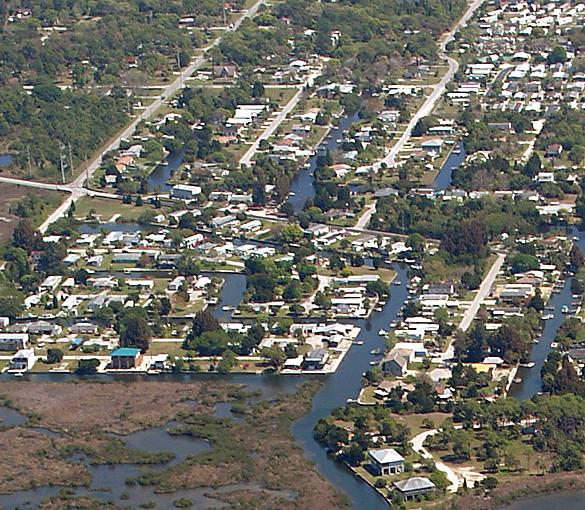 II. CAPE CAY
This small neighborhood is also separated from the rest of Hudson, but only because its canal system enters into the Gulf separately, just north of Driftwood (Yellow Point). Now being re-developed to a certain extent, it has mostly older single-wide mobiles mixed with a few houses, and a few new stilt houses as well. On about 15 of the 175 properties here are now 2-3 story stilt homes. Though on the lower end of the waterfront, it seems that people are coming in and using some of the mobiles as 'fish camp' style vacation or weekend homes, and many residents have lived here a long time. Some of these old mobiles are kept up well, while others seem on the verge of condemnation status, and some are vacant, held for investment in land value underneath them. A wonderful secret of this neighborhood alone is the secluded area of fishing flats that forms a buffer between the open water and the canal homes. Only residents of this area can really use it (but few do) since you need a troller and a small watercraft to go in. Big boats can't get in and your battery for the troller will wear out if you are trying to come from Sea Pines or from the south. People on Driftwood can reach it but few do. You can see some of the flats at the top of the photo above. Also, the Suncoast Seabird Sanctuary is at right. (Finally, to answer some of the email questions, no the flats really are green, not brown looking like in the photo- which was taken in the 80's.-- today, verdant green- they almost feel like the Mekong or the Orange River in South Africa going through with a small boat!). Main streets: Capri, Edgewater. Turn west off 19 onto New York Ave and follow it all the way to the end. There are 2.0 units of canals.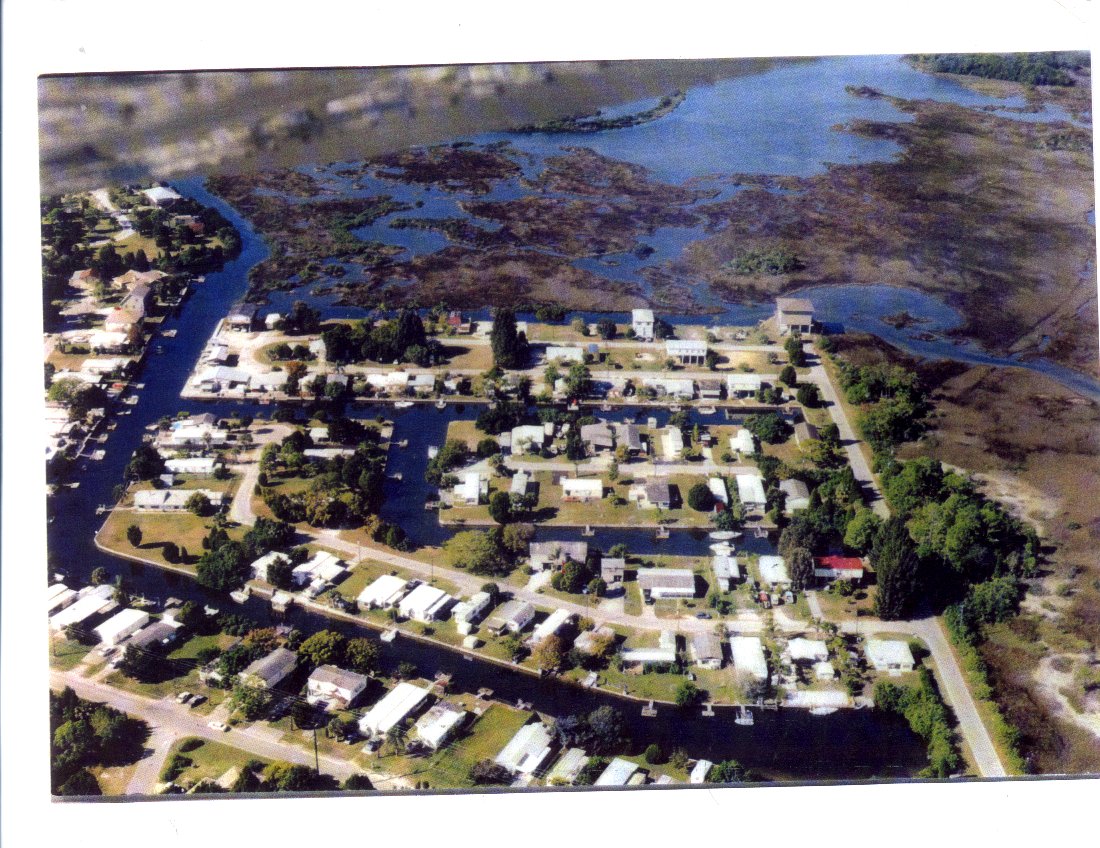 Another view of Cape Cay with its fishing flats
---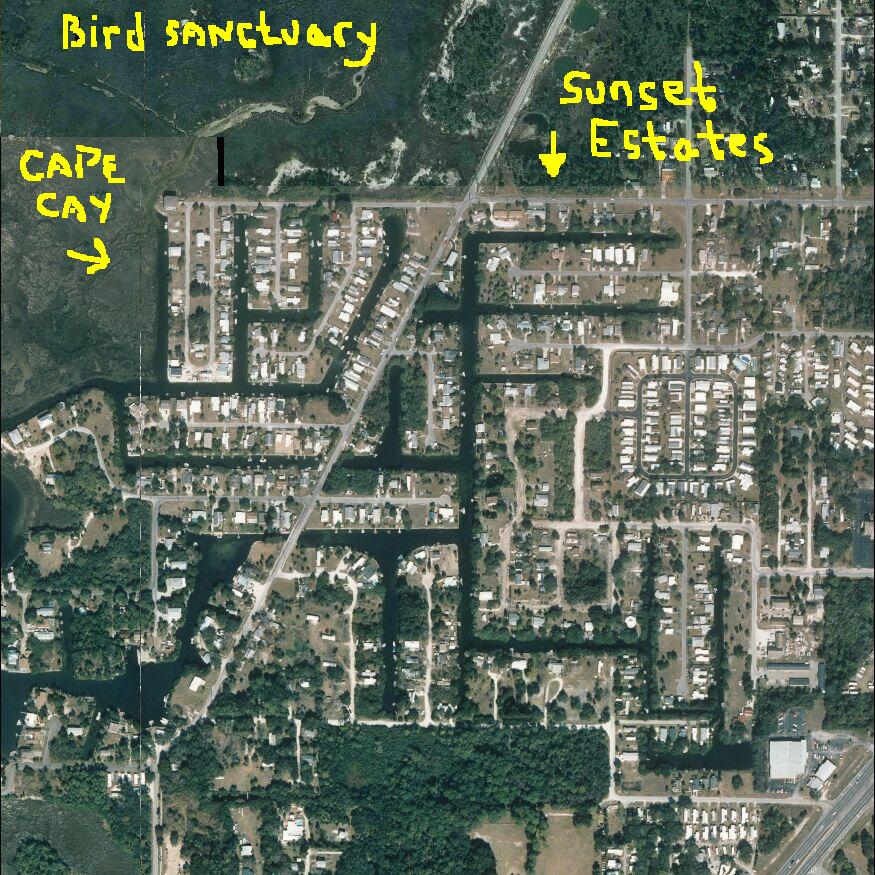 III. SUNSET ESTATES (Inc. WATERWAY SHORES)
This neighborhood is through the bridge on Old Dixie, east of that street. The houses are either single family ranch or else older mobile homes. There are now about 10 raised homes that are very nice. The end of Sheepshead and the end of Marina St. are about the furthest inland you can get and still be on the water, nearly a mile. Your boat must be able to fit under the bridge at Old Dixie to get from your yard to the Gulf, so sailboats do not fit, but pontoon boats do. Homes here are an average of $150,000. This neighborhood will be the last to be redeveloped with big houses and investors cause of the bridge issue, but home prices still seem to be going up every month. The bottom half of the canal system is Waterway Shores which has Gulfside Villas included in it. The teminus of the SE'ern most canal is the 'Ol fishin' Hole where old time Hudson folk swam. Turn west off 19 onto New York and left onto Shark St. -or—turn west off 19 onto New Jersey Ave. and follow it to the end. There are 4.0 units of canals.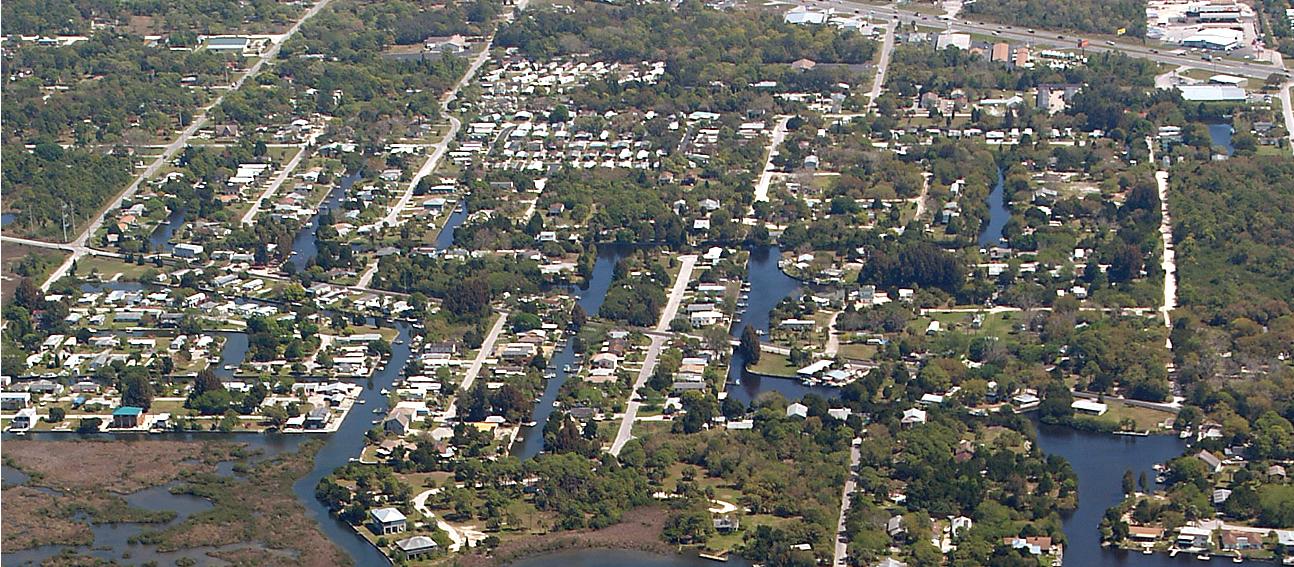 In this view, donated by David Birdsell and Bob Walker over at FL Realty Centers, we can see
Cape Cay's fishing flats in the lower left, Cape Cay itself above it and on the other side of the
street running horizontally through the center (Old Dixie), Sunset Estates. In the very upper right, you can see the old fishing hole, a natural phenemenon.
---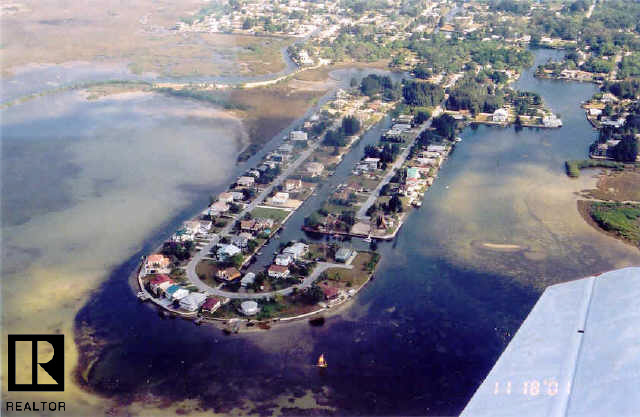 IV. DRIFTWOOD ISLES
This neighborhood is unique and what a view! Gulf front. -it is built on a long peninsula jutting out into the open water between Cape Cay and Port Hudson. This airplane photo shows the deeper water in the dark color. Reed beds and seagrass is the lighter stuff. Can you find the sailboat?
The canals from Sunset Estates can be seen twisting into the background inland. Driftwood has many beautiful new homes, many of them 3 stories tall with high balconies. Older homes are quite nice too, and almost all the time you can see something being constructed here. Cost is $310,000 on average, and the main streets are Seaview and Driftwood. And again, no the water is not really brown, that's just the picture. To get there, turn west off 19 on Hudson Ave., right on Old Dixie, Left on McCray after the bridge, and Right on Driftwood. There are 2.5 units of canals and coast.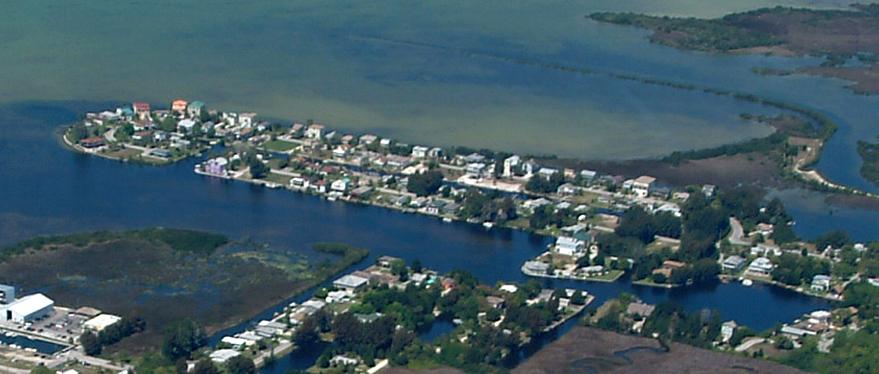 A side view of Driftwood taken by a plane commissioned by our friends at FL Realty Centers, the best realtors in Hudson, if not the world
---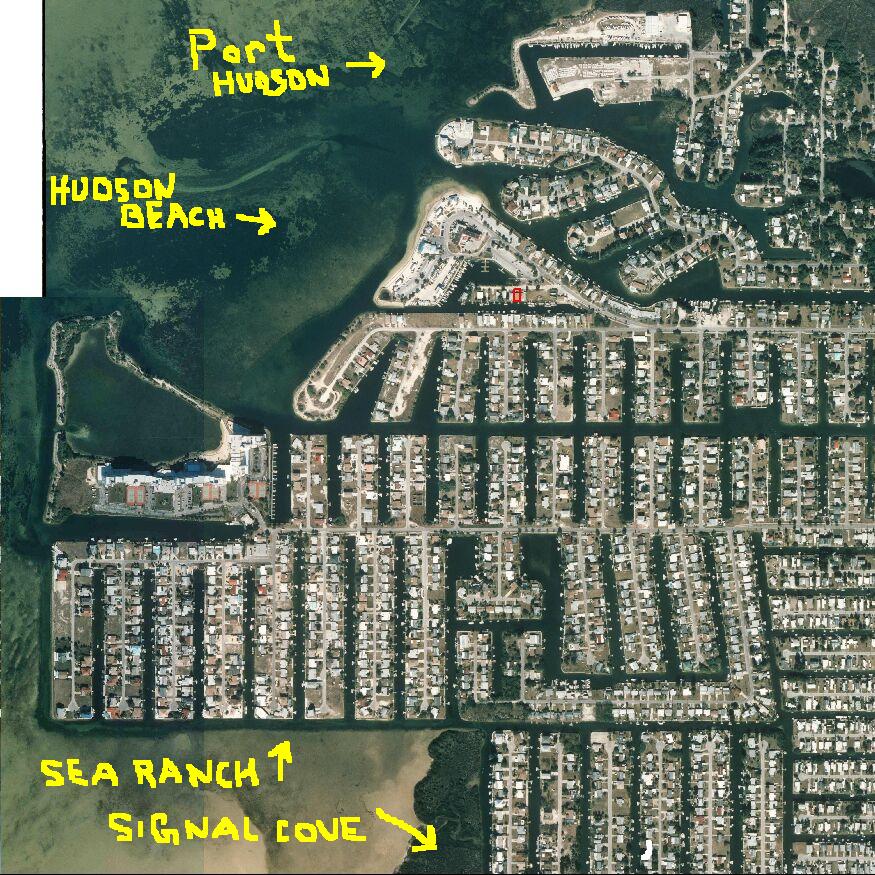 V. PORT OF HUDSON (INCLUDING HARBOR DRIVE)
The Port of Hudson community is coastal, and big money Gulf front lots mix with old mobile homes and ranch houses. The Port Hudson Marina, which is of course, also located here, is a popular local restaurant and bar. This is the oldest settled part of Hudson, and it was on Pine St. that old man Isaac Hudson founded this town from a house that still stands as a historical monument. Hidden off Old Dixie just south of Hudson Ave. is the Harbor Drive peninsula, with some of the most sought after 1-2-3 story homes in town. From either side, the homes here face interesting features- the Marina to the north and the beach to the south. The main streets of this neighborhood are Hudson Ave., Pine, Harbor Dr. and Crabtrap Ct. To get here, turn west off 19 onto Hudson Ave and continue to the end. There are 3.5 units of canals and coast.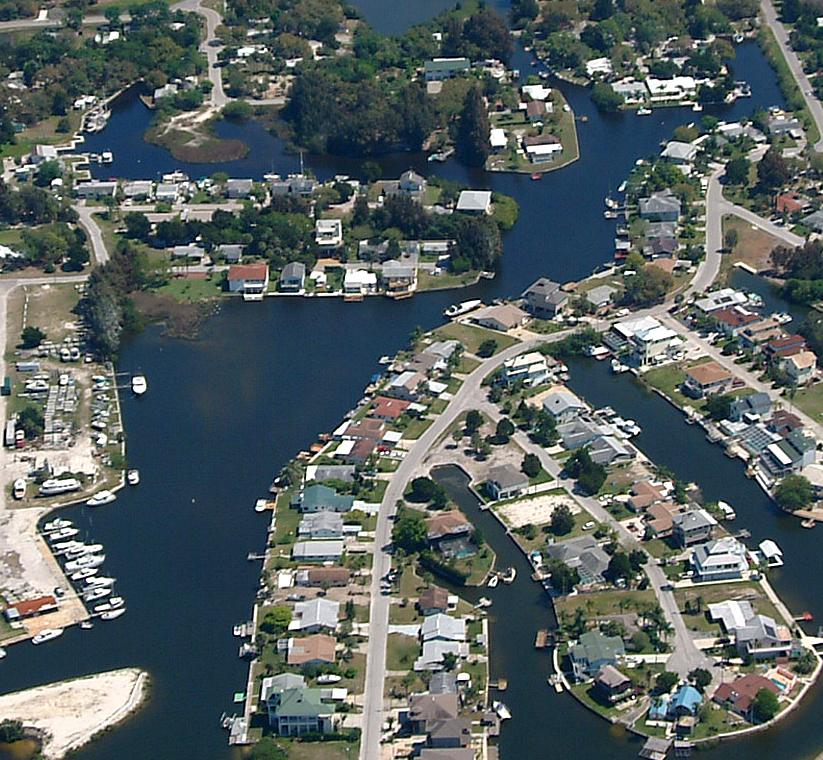 ---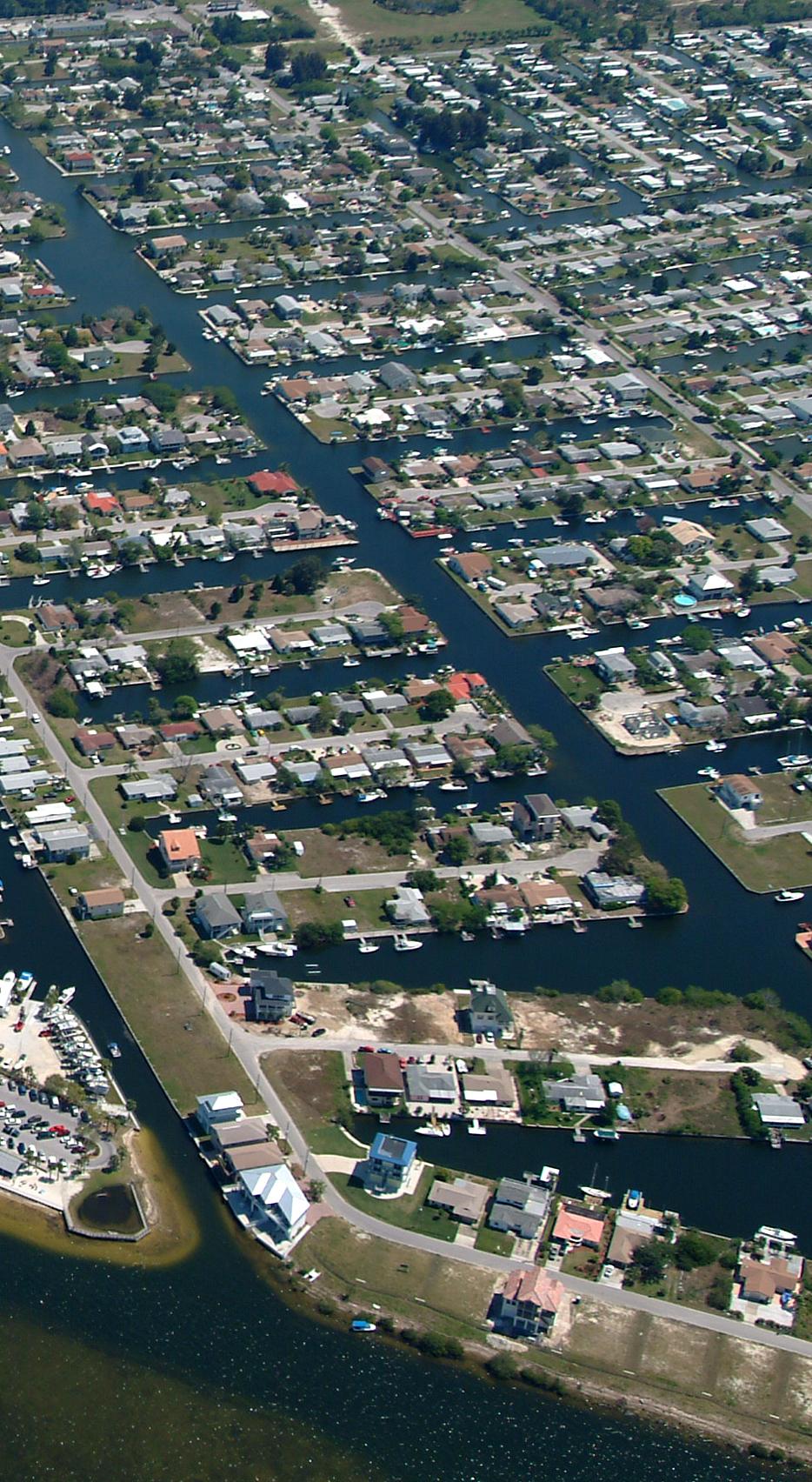 (click for the beach webpage!)
The Hudson Beach neighborhood is also booming, originally a single story ranch house area, it is being reconstructed fast as 3 story stilt homes are shooting up all over due to the desirability of the location. The opening of the New Hudson Channel is attracting pleasure boaters from all over. Most houses are in stones throw from the actual beach, the furthest within a 15 min. walk. The terminus of Clark St. is the beach itself and Strickland Park. The area is as close as Hudson gets to a `downtown.' On its own peninsula is Skeleton Key Marina and the public boat ramps and docks. Hudson Beach is mostly used by locals, and doesn't have the best facilities for many swimmers, but with Gulf-front restaurants, a red `nightlight' for boaters, a safe and clean environment all make this area prone for continued explosive development. The only glitch is a recent increase in construction costs thanks to competition for materials from China. Thanks China. Main streets are Clark, Lonnie Lee, Aureau and Armand Way. Turn west off 19 onto Clark St and follow it all the way to the end. There are 7.0 units of canals and coastline.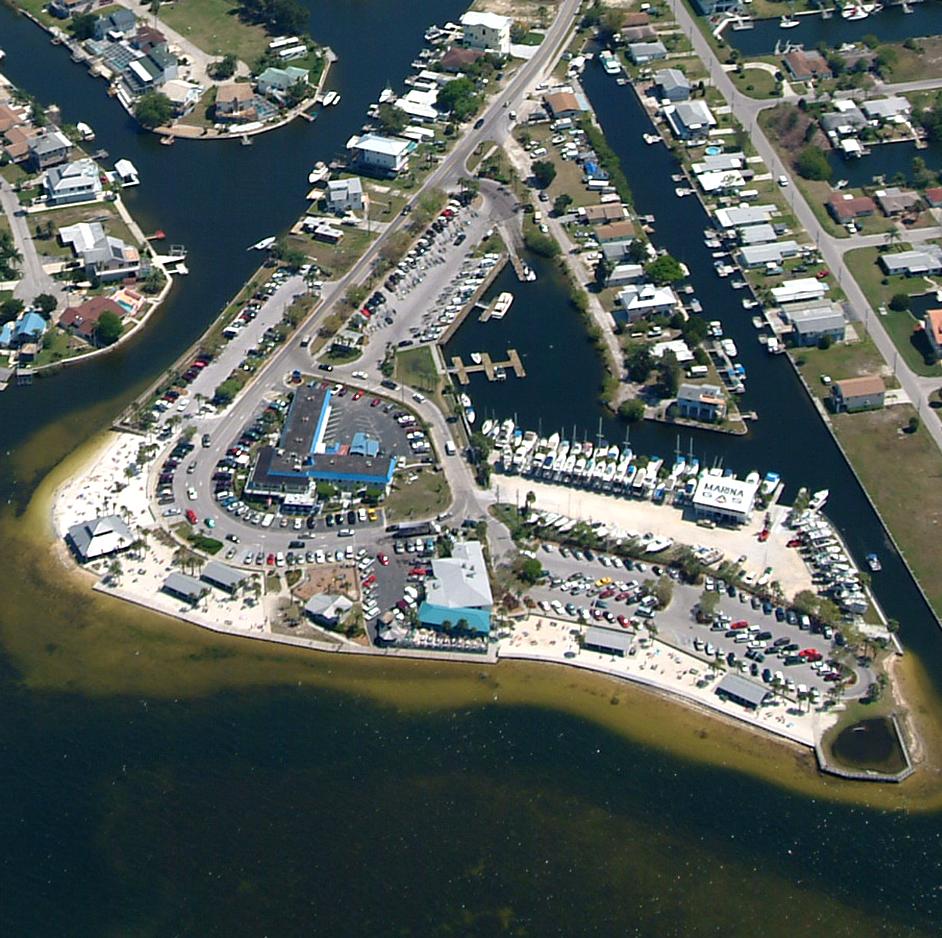 ---
VII. SEA RANCH
"Sea Ranch of the Gulf" is the major waterfront neighborhood of Hudson. Its name is the one most recognized outside of this town. It has the classic 90 degree street and canal pattern as seen in the photo above, with an increasingly upscale environment. Filled with ranch houses in the 1970's like Hudson Beach, these are also being redeveloped all the time. There are many boats here. Amazingly, there are some undeveloped Gulf-front lots for sale here on Beverly Drive that you can build your literal dream home on. The huge Gulf Island Tennis Resort Complex sits at the very end of Sea Ranch, with a private gate, offering some of the best views of city and water. This neighborhood exemplifies perfectly the purpose of Hudson's existance: A nice laid back feel, a dock for your boat and your fishing line, and nice neighbors to have a fish fry with. Main streets are Sea Ranch, Beverly Dr., Plumosa is a representative street. If anyone has a good ariel photo of Sea Ranch, send it on in. Get there by veering west of 19 onto Sea Ranch Drive, there are 15.0 units of canals.
* For a better look at these neighborhoods, scroll back up to the top of this page
VIII. SIGNAL COVE (Inc. Killarney Shores)
This is a mostly mobile homes area, many of them new and up on stilts. It used to be an elderly community, now there is a mix of younger people as well. This neighborhood is a good example of the possibilities dealing with the usage of space underneath a stilt home. Driving around here one finds some left open, some closed up, some screened in, even some swimming pools under the home itself. The older mobiles are still around, but perhaps not for very much longer as they reach the age of retirement. Main streets are Saltwater, Tower, Signal Cove Drive. Turn west off 19 onto Saltwater or Tower Dr. and you are there. There are 13.0 units of canals.
If you have ever been to Hudson Beach, you've seen the Gulf Island Resort. Though obstensibly part of Sea Ranch, this very large set of three beach resort-style buildings is really a neighborhood unto itself. It has a gated security entryway, private drive, and each building is around 10 stories tall. The water side units gives a wonderful view of the Gulf, and the land facing units give a nice overview of Hudson, especially at night. There are tennis courts and swimming pools for residents. Avg. price is over $200,000 for a condo. Main street is Gulf Island, Turn west off 19 onto Sea Ranch and follow it all the way to the end. There are 1.5 units of coastline.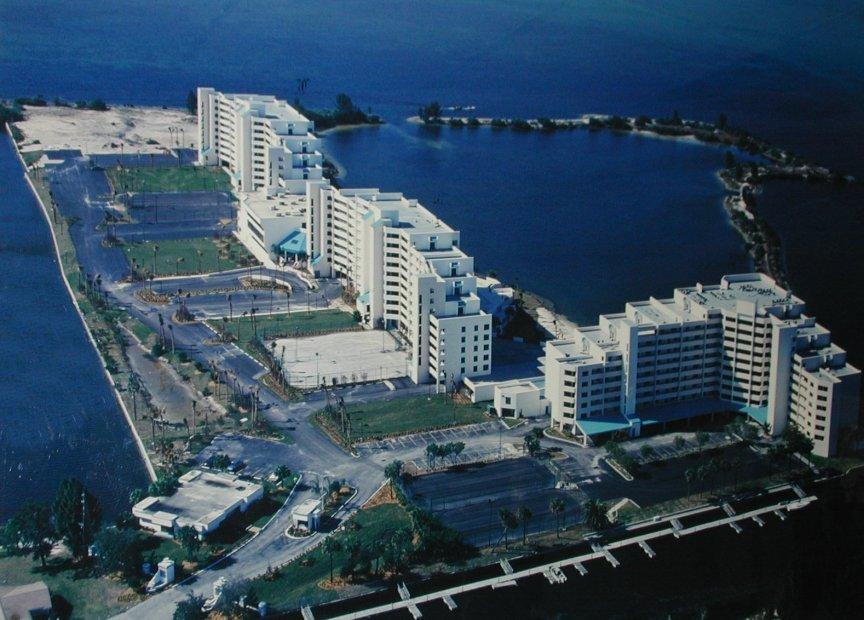 ---
X. VISTA DEL MAR
Mostly mobile homes, Vista Del Mar sits on the last canals in, between US 19 and the Sea Ranch neighborhood. Some of the old mobile homes here are being ripped out due to county condemnation of age and structure, some are occupied, others are vacant because people bought them just to invest, or to keep their boat in back of. Also, some are being torn out to make way for newer stilt manufactured homes. Main streets are Del Mar, Sanderling and Flicker. Turn west off 19 on Sea Ranch, make an immediate left on Delmar and you are there. There are 3.0 units of canals.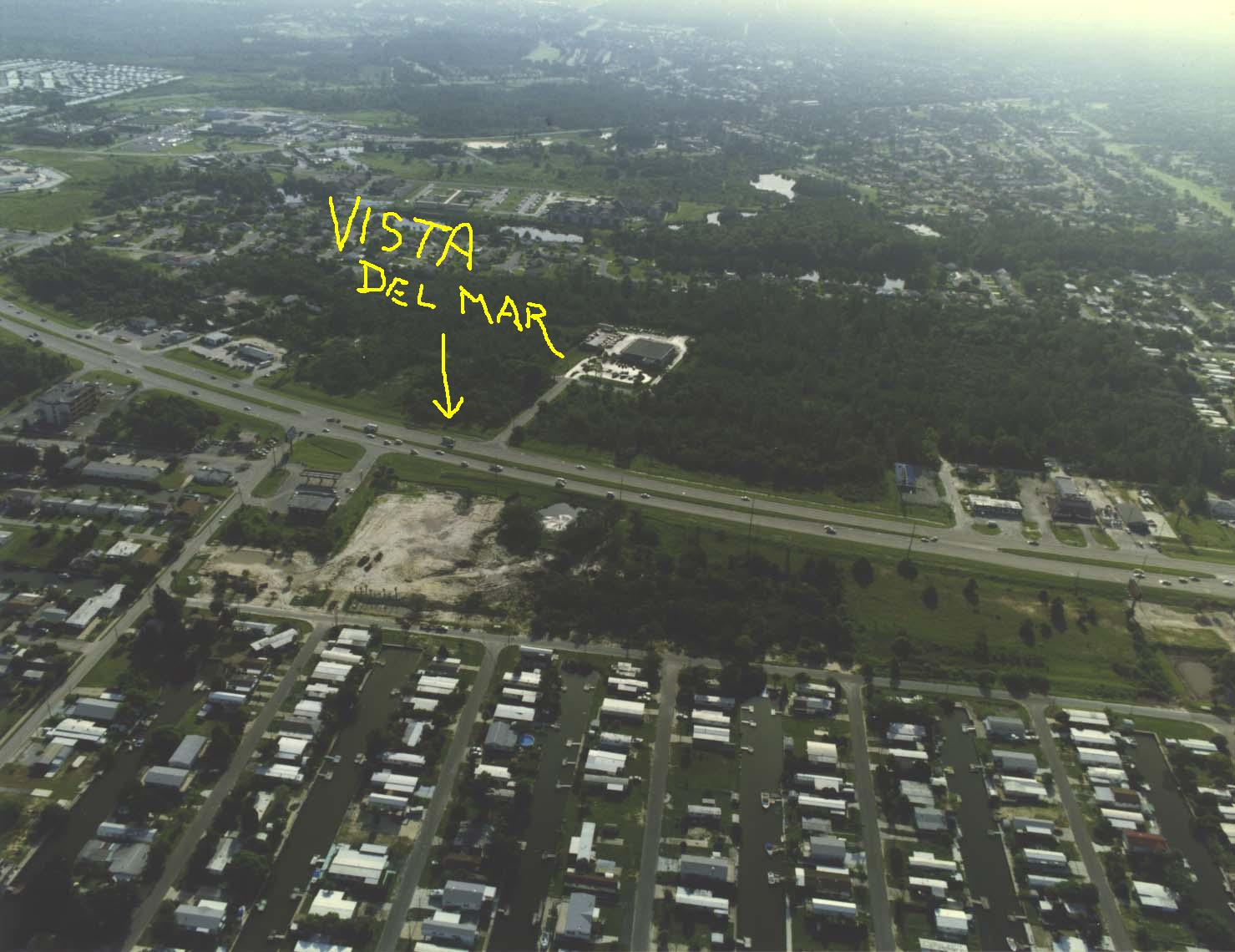 ---
XI. LEISURE BEACH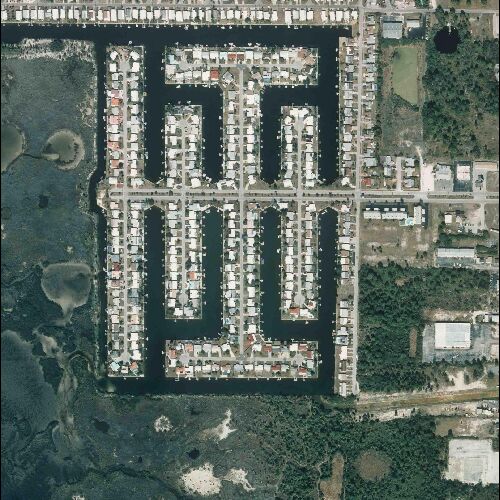 Leisure Beach is not actually a beach, instead, it is the southernmost waterfront neighborhood. Its canals are a little wider than most of the other neighborhoods, and newer as well. They were dug by a developer about 10 years after the rest of Hudson was. Mostly single family 1-2 story homes, Leisure Beach prices are going up as well. The traffic around it will become congested in January 2006 when a new Super Wal-Mart will is scheduled to open across the street from it on US 19. The main streets are Beach Blvd., Third Isle and Nautical Isle. Drive west from 19 onto Beach Blvd. There are 10.0 units of canals.
---
This is a planned community that is being considered for the extreme north of Hudson's coastline- past Sea Pines. It will consist of an entirely new commercial downtown along with a golf course, public buildings and residential centers. At the same time, the county is preparing to construct a public park, and help the developer (SunWest) modify the existing (but old) channel out to the Gulf, which will give the residents and the public at large a new place to dock and get out to the water.
---
CONCLUSION
This has been a comprehensive list of all waterfront neighborhoods and some characteristics about them. It should be used as a general guide only however, and the help of a Hudson based realtor will give you possibly a fuller picture. On a whole however, residential land and home values in Hudson are increasing month by month. If you are an investor or someone who has been putting off moving to the coast, you may consider this fact. In these last years as the stock market fluctuates, as the US continues to outsource its good jobs at a record pace to cheap foreign labor markets, while continuing to import cheap and sometimes illegal foreign labor for the jobs that remain, investing in real estate has become more popular.
---
A COMPENDIUM OF ALL Gulf & CANAL FRONT STREETS
Search in the above here for YOUR street elsewhere on the site!
SEA PINES
Allmand, Bertram, Century, Donzi, Gulf, Hatteras, Islander, Mako, Old Dixie, Southwind, Yachtsman.
CAPE CAY
Capri, DeLeon, Edgewater, Fair, McCray, New York, Old Dixie.
SUNSET ESTATES
Ambergate, Atlantic, Conner, Cobia, Coral, Flounder, Mackerel, Marina, Maryland, New York,
Old Dixie, Sailfish, Shark, Sheepshead, Snapper, Stevens, Waterway, Wilcox, Williams.
DRIFTWOOD ISLES
Blessing, Coffey, Colette, Driftwood, McCray, McDonald, Old Dixie, Seaview.
PORT HUDSON
Apple, Birch, Canal, Crabtrap, Harbor, Hendry, Hudson, Josie, Kulig, Louise, Lynch,
Nowiki, Old Dixie, Pine, Port Hudson, Rice, Shiloh, Shrimpdock, Udell, Yvette.
Armand, Aureau, Barnard, Berkowitz, Clark, Darlene, Duley, Ethel, Hatcher,
Helen, Lonnie Lee, King, Margo, Muriel, Old Dixie, Raie, Sommers.
SEA RANCH
Allyn, Beverly, Boatyard, Britten, Carol, Celida, Claudia, Coco, Cox, Dingus, Evelane, Frances, Garris, Gene Rossi, Gulf Island, Jennita, John Casson, Judy, Kathleen, Lagoon, Lavender, Leslie, Lisa, Malcolm, Maria, Mattix, Melanie, Michelle, Neptune, Old Dixie, Outboard, Plumosa, San Juan, Sea Ranch, Stacy, Starfish, Sunfish, Susan, Veronica, Victor.
VISTA DEL MAR
Albatross, Curlew, Del Mar, Flicker, Gull, Heron, Osprey, Puffin, Sanderling, Sea Ranch.
SIGNAL COVE
Acaranda, Ballast, Beacon, Budy, Cabin, Coxswain, Indigo, Jazz,
Keel, Port, Saltwater, Signal Cove, Starboard, Tiller, Tower.
LEISURE BEACH
Beach, First Isle, Second Isle, Third Isle, Fourth Isle, Fifth Isle, Nautical Isle, Leeside Isle.
---
Here is the Bird Sanctuary between Cape Cay and Sea Pines.
Many of the vintage postcards from the 1950's etc. featured these kinds of Gulf Coast wetlands scenes.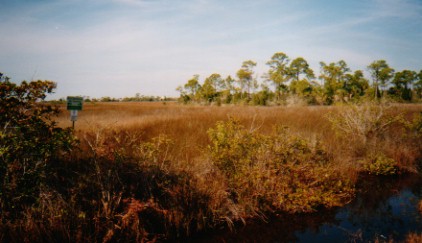 Enter: Pasco Property Appraiser Website
...And finally, (really this time) is an absolutely amazing photograph taken by a girl who, through careful calculation and perfect precision, actually snapped this from a commercial jetliner. Take a good look at it, Gulf Island is visible as an L (it looks like clouds but isn't), Driftwood is easily seen, as is the Beach, the Marina and many canals.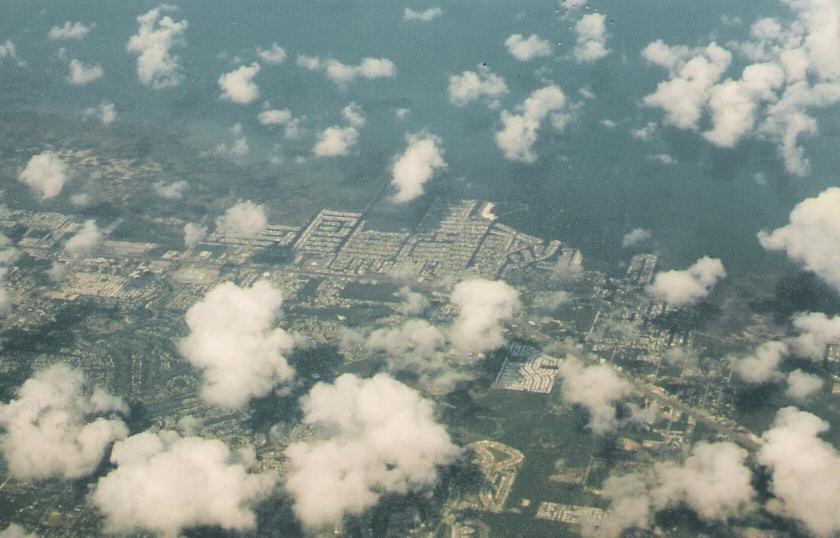 To See Properties for Sale in Hudson Beach now, Click Here