ERA II: THE FOUNDING: 1878 - 1905
(The Beginnings of a Town - Building of the Fivay RR)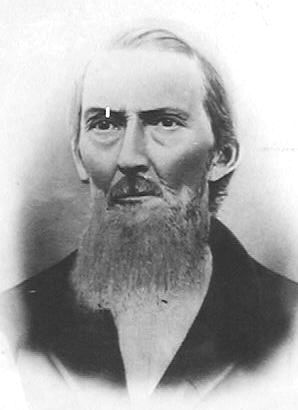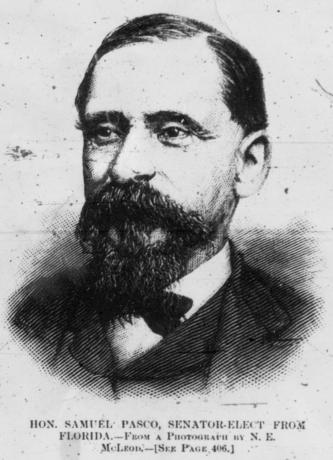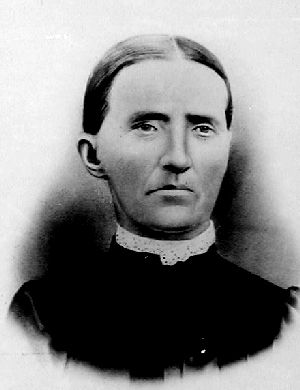 ISAAC HUDSON SAM PASCO MRS. HUDSON
Founder Confederate Soldier Wife of Isaac
Namesake of Pasco County
Back during the Civil War (1861-1865), this was all Hernando County. After the war, Hernando County was split into two and in 1887 the southern portion was renamed after a Confederate soldier who became a Florida congressman... and Sam Pasco County was born. There weren't many walls to do much talking around here during the wartime however. It wasn't until the 1870's when old man Isaac Hudson arrived here with a herd of cows and two wagons seeking new and better farmland. He founded the town in 1878 when he allowed his house to be used as a post office. Following is the official listing in Florida's 'Place Name' Directory:
"HUDSON was named for Isaac Washington Hudson." J. B. or J. W. Hudson wrote the following:
B. L. Blackburn taught our first school, a three month term. The Post Office Department established a Star Route from Brooksville to the mouth of the Anclote River, and there was an office established out east of Port Richey at old man Worley's place, the name of which was Hopeville. While Blackburn was teaching the school he got a Post Office established at Hudson. When the department asked for a name for the office, Brother Bill and Father suggested that we call it Hudson's Landing, but I disagreed with them, and suggested the name of Gulf View, but Hudson's Landing was sent up. And in a few days we were advised that the Department had cut off Landing and named the office Hudson, so this is how the town got its name, in the year of 1881. J. W. Hudson was made postmaster and J. B. Hudson was made assistant."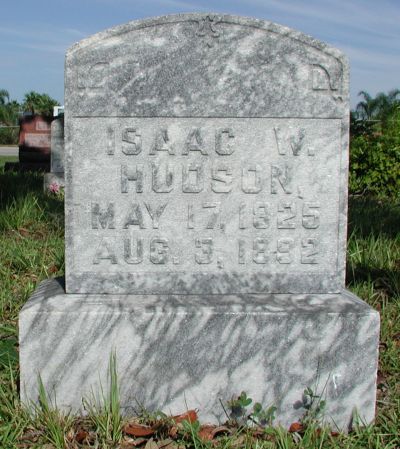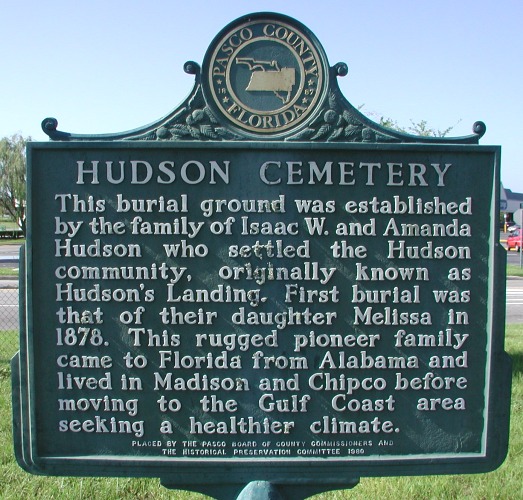 The Founder's Gravestone The Official Historical Marker for the Old Cemetary
People wrote letters `to Hudson' and so the town got its name (even though they wanted it to be Hudson's Landing, or even, as we read, Gulf View). This house is a historic landmark today, it is on Pine St. and Harbor Drive. Here are some photos of old, old Hudson folks and where they lived. Isaac Hudson Jr., the first baby born in Hudson, lived to be over 100 years old. Strangely, most of the originals born here, despite lack of medical supplies, lived to be over 90.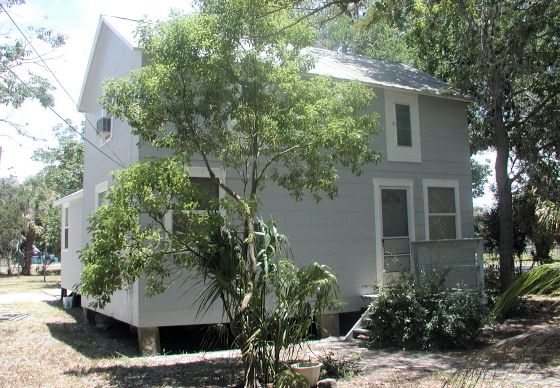 The original Hudson home, a historical monument
HOUSES IN EARLY TIMES. After Isaac Hudson came here, more settlers followed. Everyday life for the early settlers was much different than it is today. They were so few in number that neighbors welcomed new arrivals by helping them find good lumber and even helped build their houses with them. Before 1905 there was no sawmill in Hudson- this means that these settlers built their houses from scratch, even down to cutting the wood. Inside the houses, furniture was locally made by craftsmen out of wood. Most household items like brooms and mops were made from the same thatched material used in today's tiki-style beach overhangs.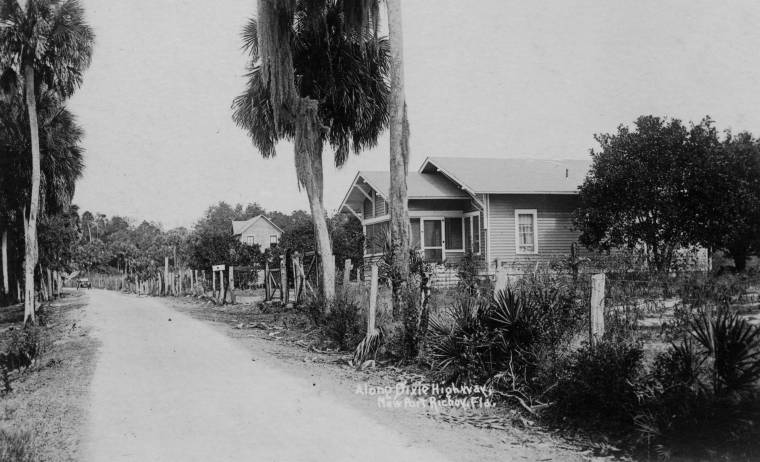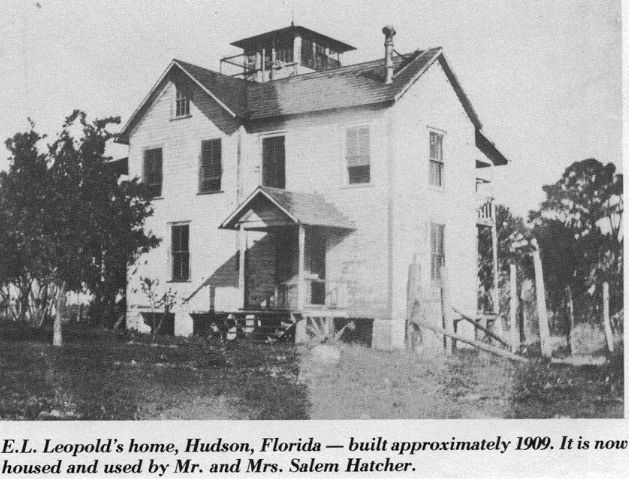 OLD DIXIE IN ITS 'PRIME' ANOTHER OLD HUDSON HOUSE
FOOD IN EARLY TIMES. Hunting and fishing in the late 1800's supplied the food on the table. Hudson was always blessed with enough food to go round for pioneer families willing to put in the time. In the woods were wild animals and birds, and of course the Gulf provided great fishing. A favorite early settler breakfast here was salted or smoked mullet with yams. Those of us modern gourmets who complain today about weak stomachs in the morning should remember this. Yes, you high school girls who 'have to go to the clinic' every hour of the school-day should too.
"Social life in early Hudson was simple but quite active. The ladies had their quilting bees, but visiting friends, relatives and neighbors consisted of the main activity. These gatherings were usually spontaneous. The ladies exchanged recipes and gossiped; the youngsters played and romped outdoors; and the men gathered on the porch to talk and boast about crops, building, building materials and their latest hunting and fishing feats.2"
A rule of thumb was that food and shelter were generously shared. There are many areas of the world where food is a constant problem, where tribal societies cannot seem to feed themselves. The mid ranges of Florida's Gulf Coast is not one of these. It was and is a lush environment brimming over with game and fertile land. Any traveler, whether known or not, was most certainly asked to dinner and to stay over night. Among neighbors in Hudson, it was assumed that a someone would show up around dinnertime, and extra place settings were made accordingly.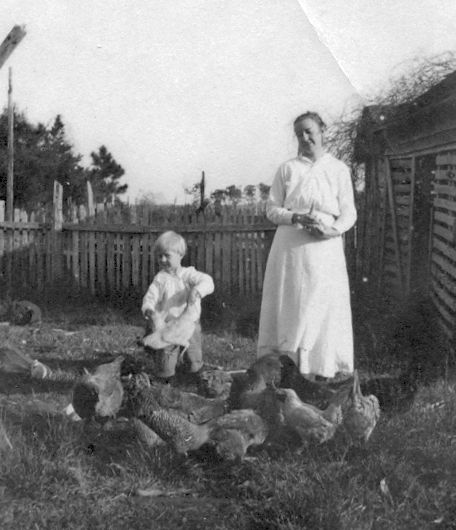 an early family's backyard off of Hudson Ave. featuring chickens
INDIANS. Such is the march of time and history that today, the elderly frequently discuss the Second World War and perhaps even the Great Depression. In a few years, it will be Vietnam and Korea. Not long ago in Hudson however, the elderly generation discussed the First World War and the 1920's. Before that even, in other parts of Florida they talked of troubles with the 'Red Men.' The Indians and Indian raids were not an issue in Hudson however. Indians lived around here on and off for the last 700 years, but when the first White settlers came, there were none to be found in the Hudson area.
EDUCATION. One facet of Hudson life was, or actually was not, was education. Sometimes today we laugh about the more 'interesting' people around, leftovers it seems, from the past, who have not assimilated to the rest of modern society. Computers and the Internet, for instance. Yet, in the early times, school lasted 3 months out of the year (unless the parents were willing to pay the teacher overtime) and the only school in Pasco County to go up to 8th grade was in Dade City. Before 1900 Pasco kids had to be sent north for high school or higher education. The state paid nothing for education, it was all financed by local residents.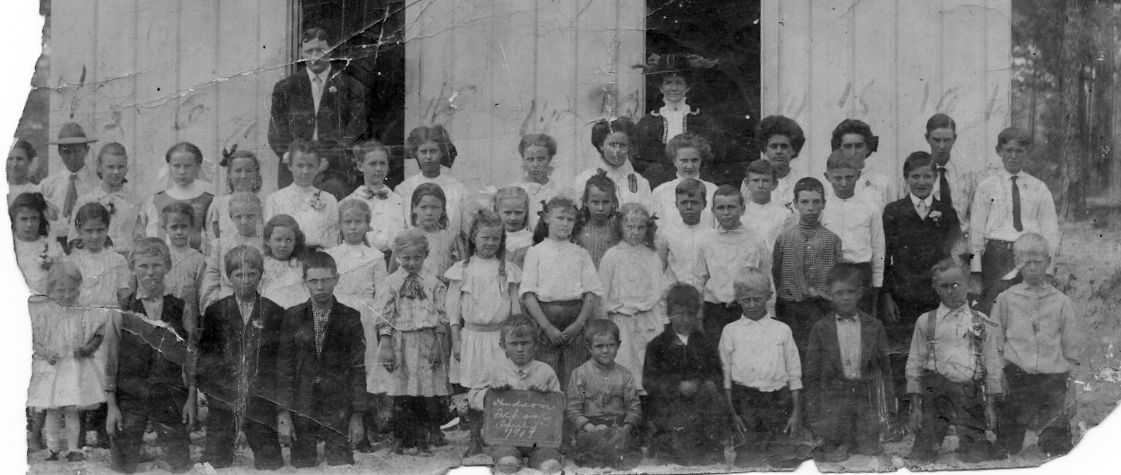 MEDICINE. In most of Florida before the Second World War, medical help was not easy to come by. Pnemonia, Typhus etc. were life threatening. Drug stores did not exist in most places, neither did hospitals. You break a bone, you fix it yourself. Dentists did not exist often, either. 'Got a tooth ache?': You wait until it goes away or you yank the tooth... certainly a case of the strong survive. Yet, lets reconcile. These early settlers were jacks-of-all-trades. A family could usually support itself, with no outside help if need be. Many successful people today are wholly dependent on the efforts of their fellow humans except in their own particular specialization. Life for early settlers was a hard one by today's standards, but it was the only one they knew and they may have been as content with it as we are with ours. In any case, Hudson was actually more fortunate than some places. A 'Dr. Posey' lived here and treated all the townspeople... And it is a fact that he was never sued for malpractice or insurance fraud.
EARLY ROADS IN HUDSON
Rewind to the time of oxcarts, horse and wagon, mules and asses. Rewind to a time when it took two full days to get from Hudson to Dade City on poor path 'roads,' rewind to the late 1800's in Hudson, FL. What freedom! Roads (like the future SR 52) existed but were made of sand and ruts, making them difficult to travel. Clay was attempted around 1900 but was unusable in wet weather, including the hour of rain every summer day around 3 o' clock. Asphalt was attempted in 1910 but was poor quality and broke up into rubble. In towns, brick was used, but lack of a good base here made them poor as well. Traveling by road to and from Hudson was dirty and exhausting. It took the Hudson family 4 days to get to Tampa and back! They went once or twice a year for supplies along with some other outlying farmers from the Shady Hills and the modern Hudson High School area. "Unless you left your trading goods, there was no turning back!" 1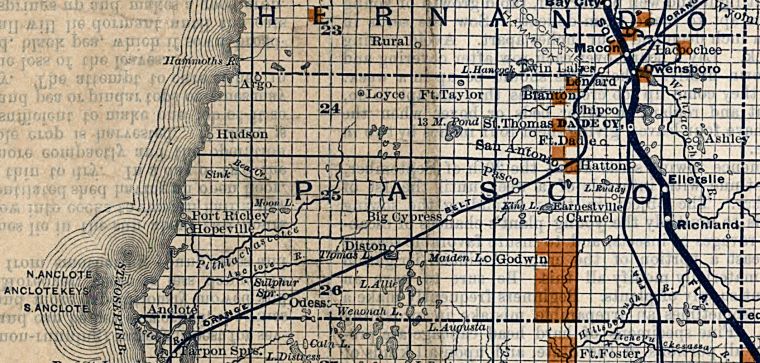 This is a map of Pasco county from 1884. Most people lived in the east. Hudson, as we can see, was very isolated.
Next Section: Road and Rail-------->