...A Whirlwind Tour of the city comprising a selection of images of backyards close up and ariel photos...
Most properties have concrete sea-walls, as seen here. You can tell that it is high tide because
there is very little in the way of waterstain visible on the seawall. At low tide, there is more.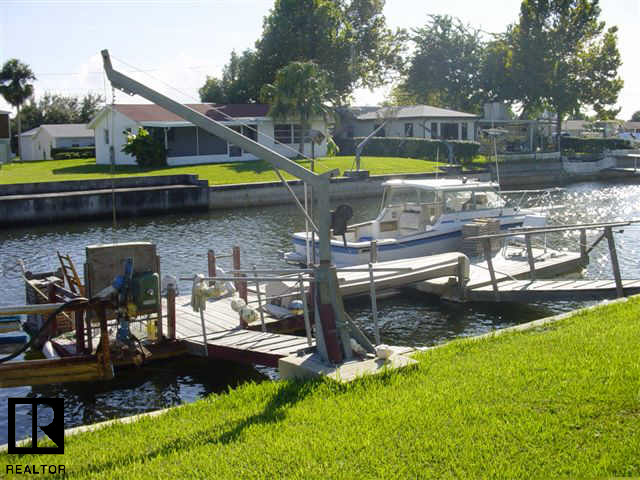 Most of the 3,464 waterfront properties in Hudson Beach have in-ground or floating docks, as seen here.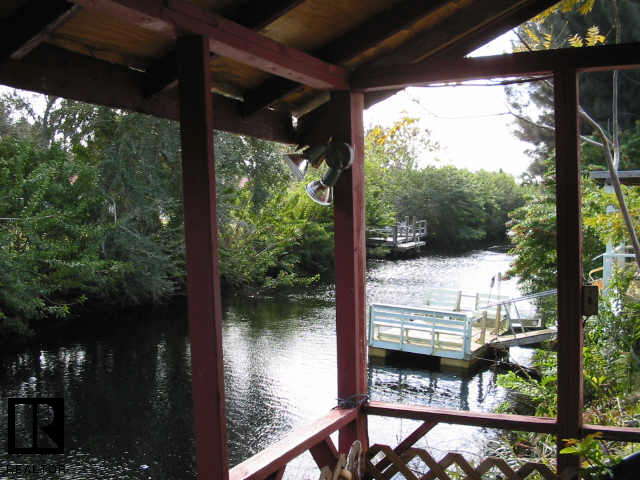 It is becoming popular to put in more elaborate decks, and the effect is nice enough.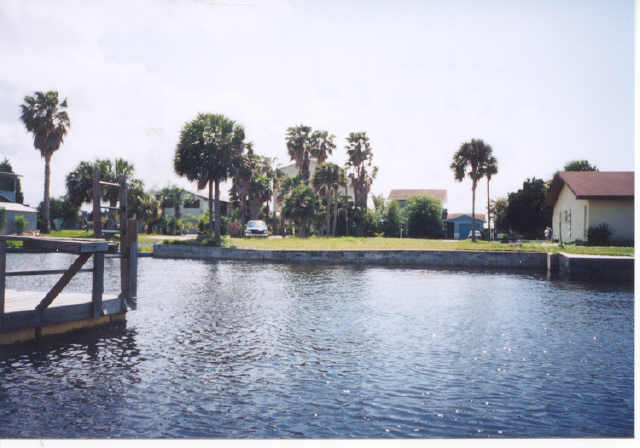 The trees on the land are mostly palms and other tropical varieties, but the Brazillian Pepper Tree is here as well,
and Hudson residents tend to cut them away from their property because they crowd out native species.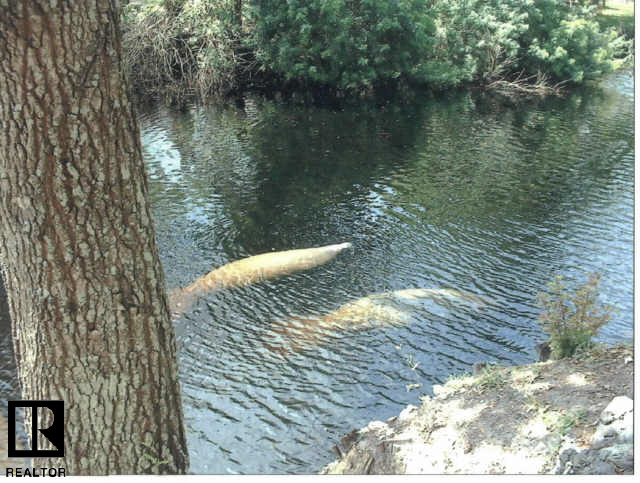 Manatees do come into the inland waterway canals, as seen here,
and feast on local plants. They eat lettuce and have their babies at the end of canals.
But, lets not kid ourselves, its not everyday that you see a manatee in the backyard,
so don't plan your dinner party around it. Its more of an every once in a while thing.
The best thing we can do to keep manatees around is to not exterminate them.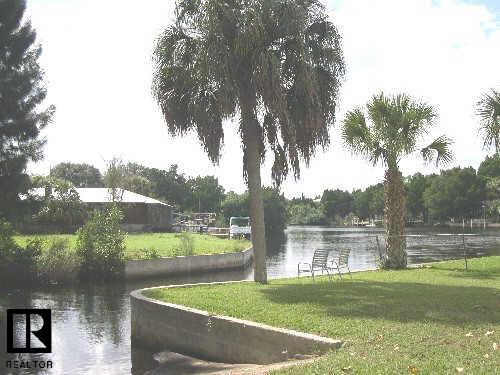 For people near the Gulf, it only takes a few moments to get out into open water.
Sometimes the canals stretch a mile inland and it can take 20 min at idle speed.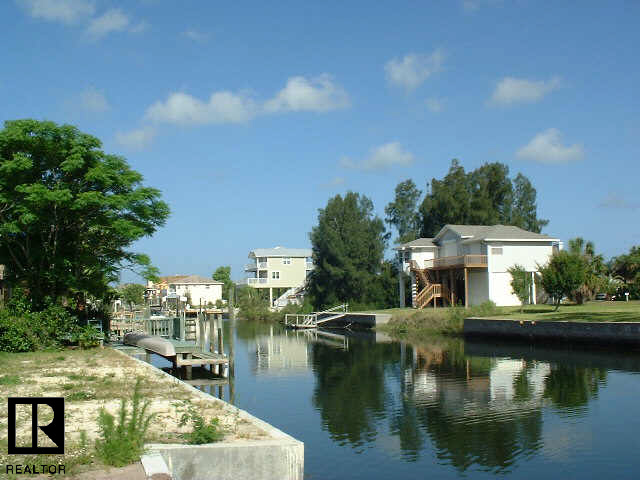 Here we find new homes going up, stilt homes, but you can't see the stilts sometimes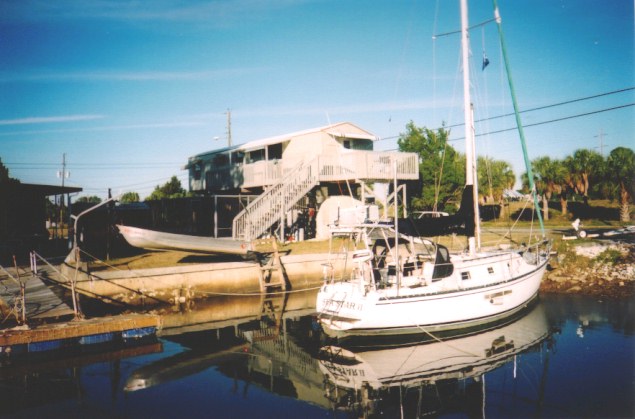 Another one with stilts, where the space under the unit has been used for a swimming pool- GOOD IDEA!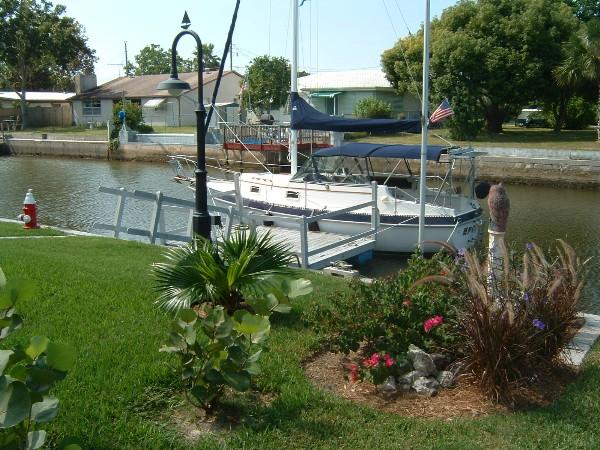 With the opening of the Hudson Channel (finally) in February 2006, people with pleasure boats
will have full access to the open water, and not have to worry about the rocks at low tide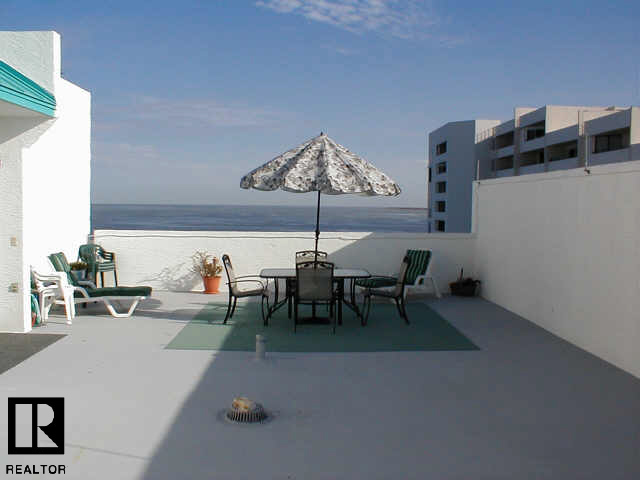 Visible from almost anywhere is the 12 story tall Gulf Island Resort, where one can either rent an apartment
or buy a room as a condo. Most are on the smaller side, but the view is outstanding!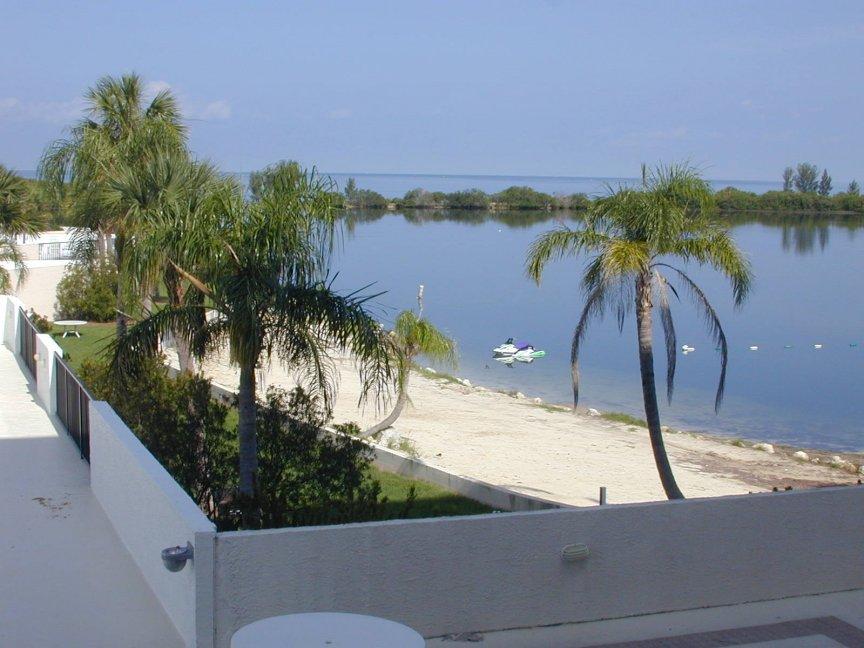 Gulf Island, with its own private bay, is a nice addition to Hudson Beach's Skyscape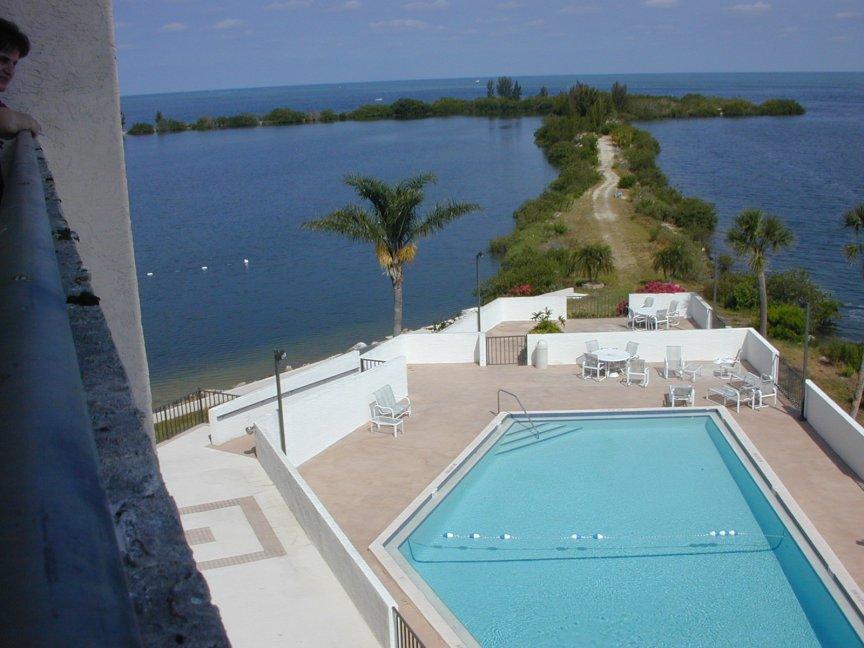 Another view with the complex's wonderful swimming pool- pretty girls and fine wines abound-
...I just wish I could get past the security guards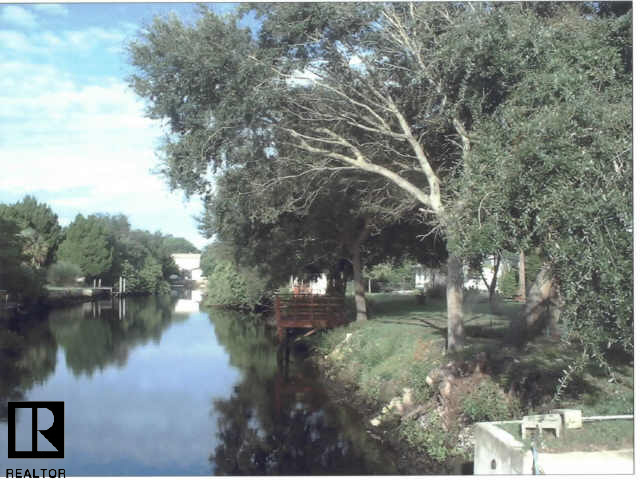 Along the more inland canals, you find more original trees that have not been removed in favor of the
popular ones. Also, there are some places like this, that have never been seawalled. If shopping
for an empty lot to buy, keep in mind that it costs some money to seawall it if it isn't already, also, to plumb it.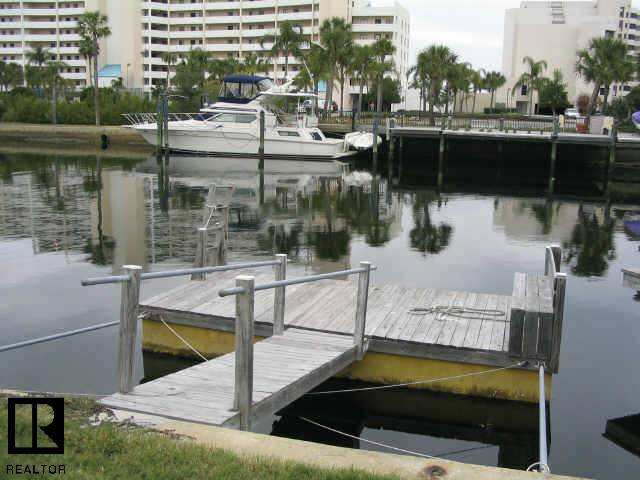 The hustle and bustle of the Gulf Island Condo and Resort Complex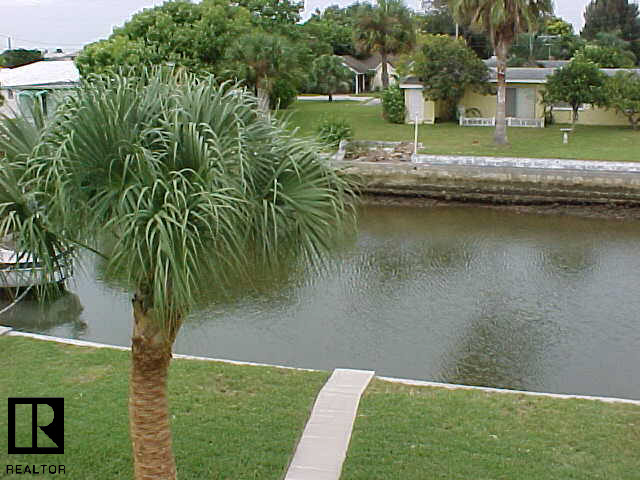 Remember to tell guests not to jump off of the 2nd story into the canal... or the spa
this never bodes well for a future in sports-entertainment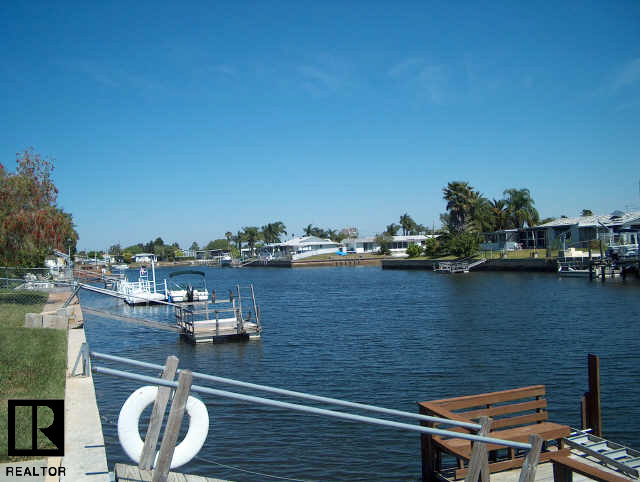 Small watercraft, as seen here, are a staple on these shores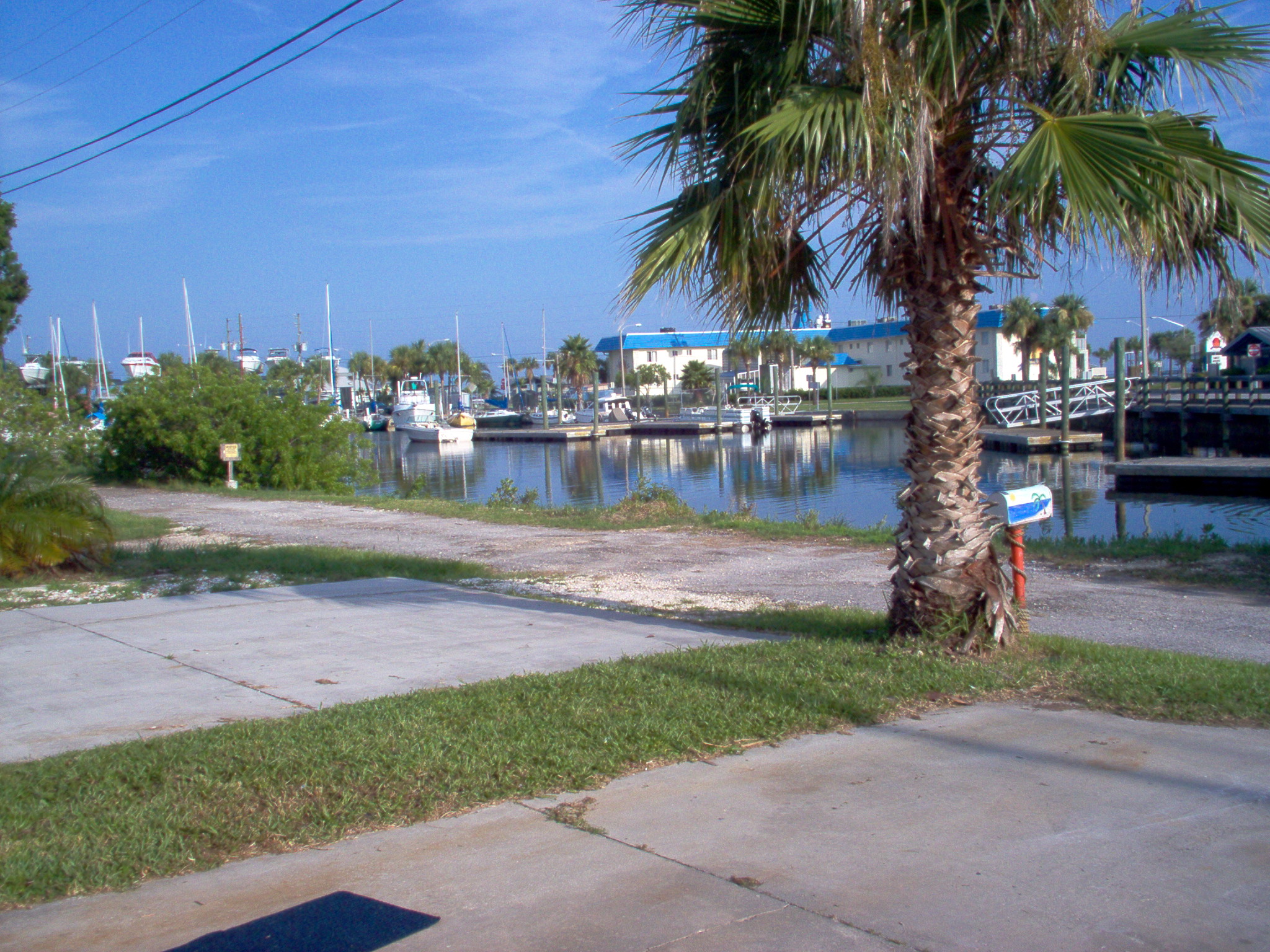 Inn on the Gulf restaurant and hotel, from the back across the Skeleton Key Marina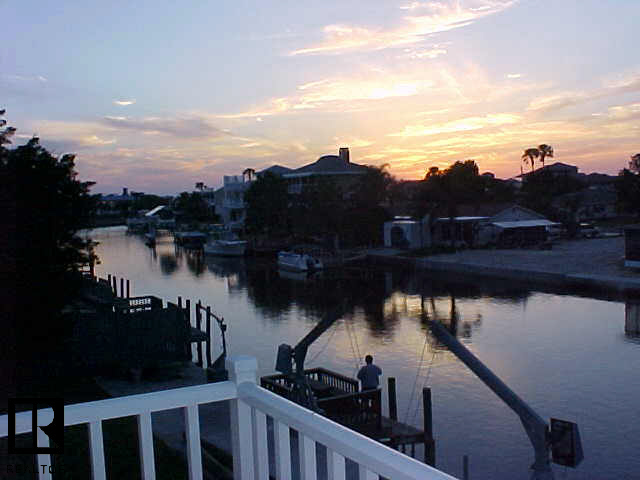 Sunset on the Gulf Coast, look at the man on the dock, what is he thinking about?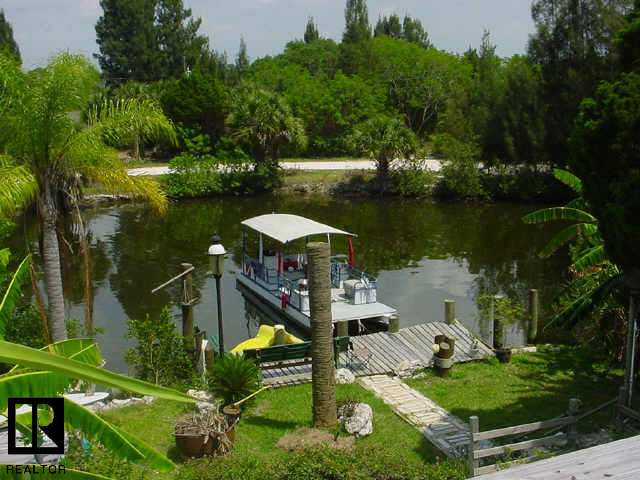 Doesn't this scene look primeval?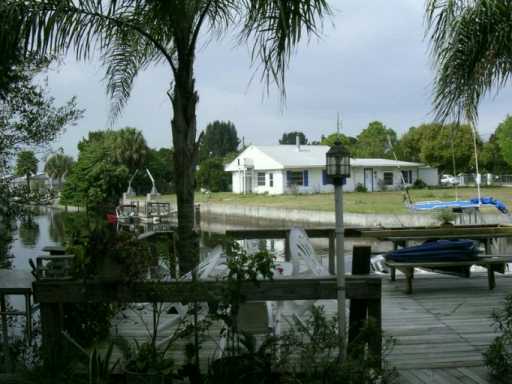 The hudsonfla.com offices are in this house, which is FOR SALE RIGHT NOW AT THE BEST PRICE IN TOWN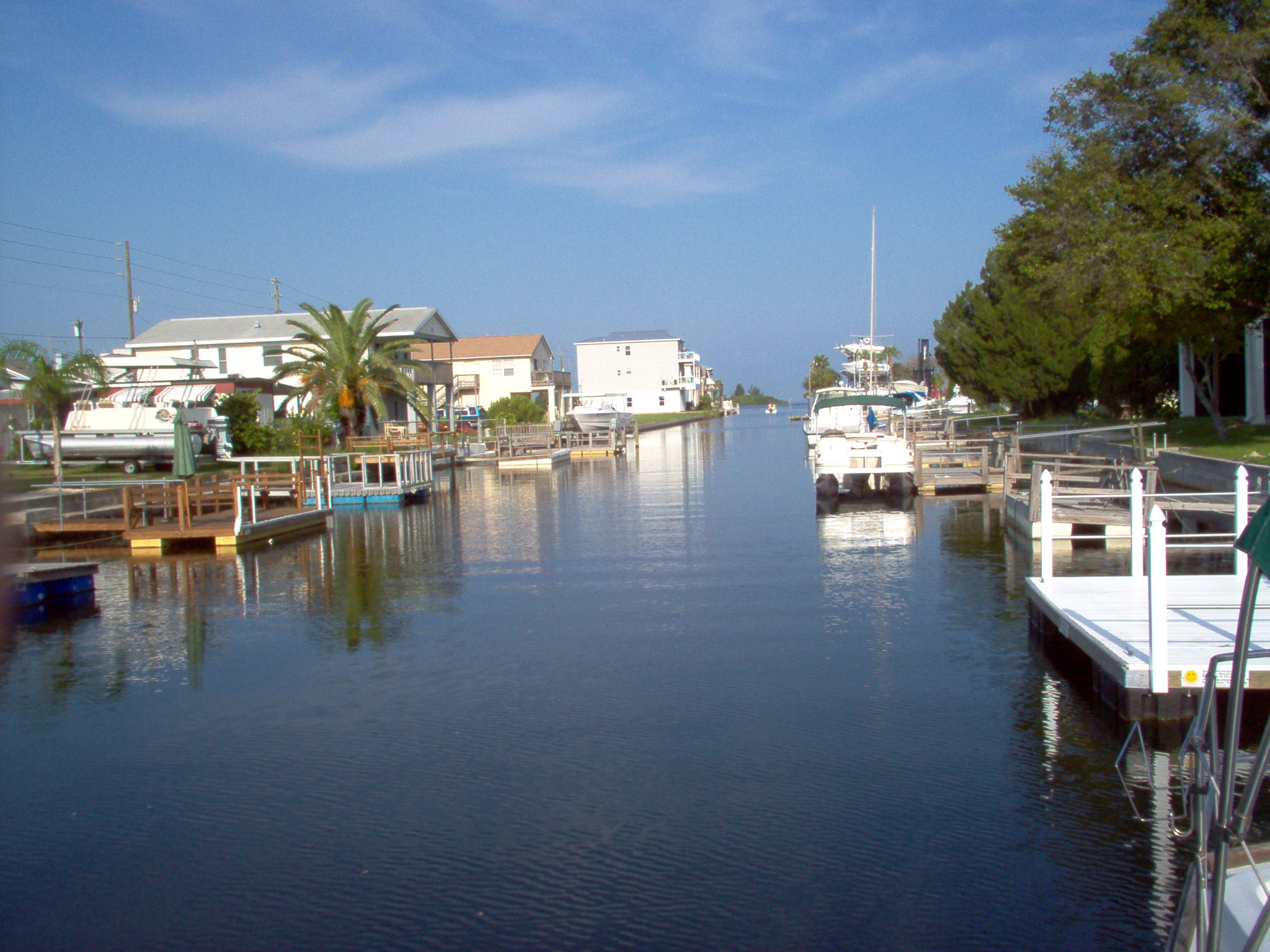 Last canal out and into the Gulf!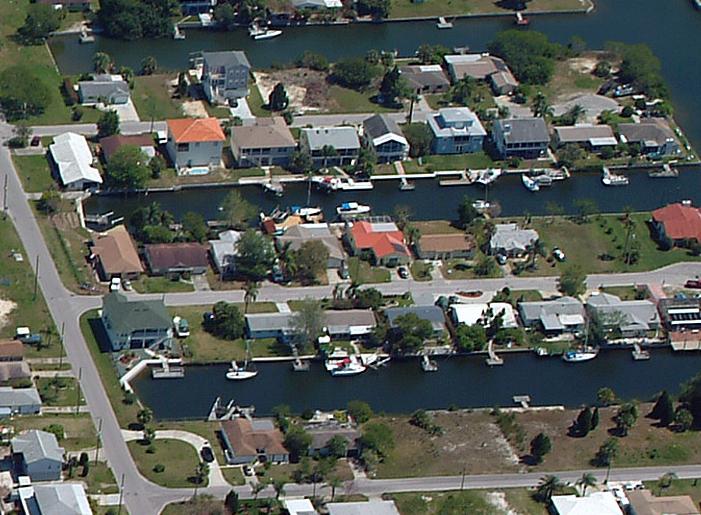 A helicopter image of Sea Pines, the most northern and the only deed restricted neighborhood in Hudson.
For a look at the Sea Pines neighborhood website, click here.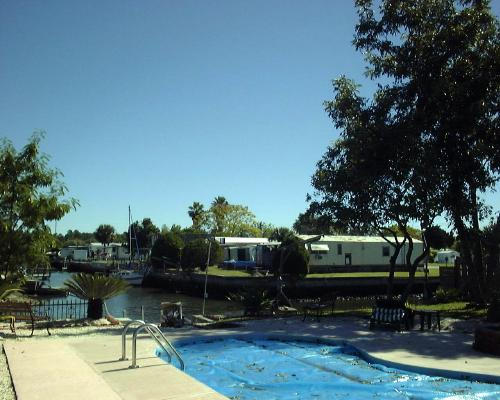 Without deed restrictions, some houses put up open air pools that give the
'south of the border hacienda, James Bond effect' --whatever that is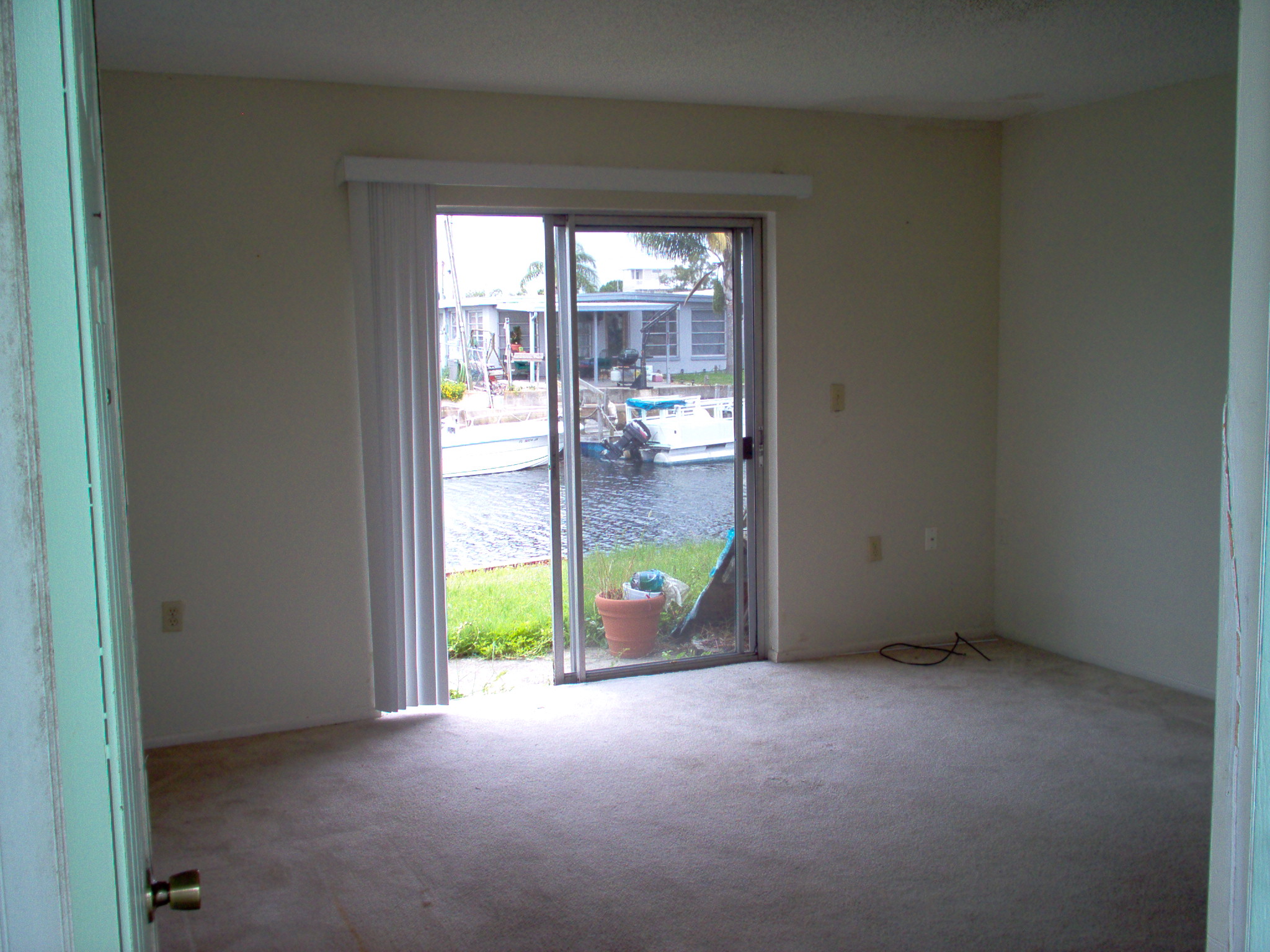 Seen from inside a house and out into the backyard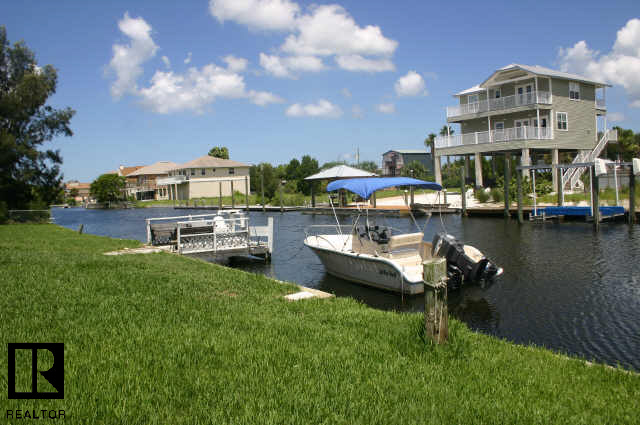 The balcony here at this house renders an outstanding view of the blues and greens that have made Florida the 4th most populous
state in the Union (behind CA, TX, and NY) nearly 17.000.000 people, larger than countries like Hungary and Ireland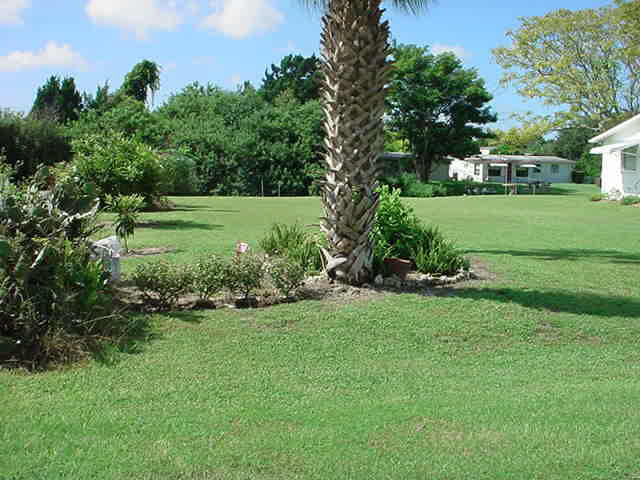 Many people here remember the first time they saw houses and land with that strange drop off back there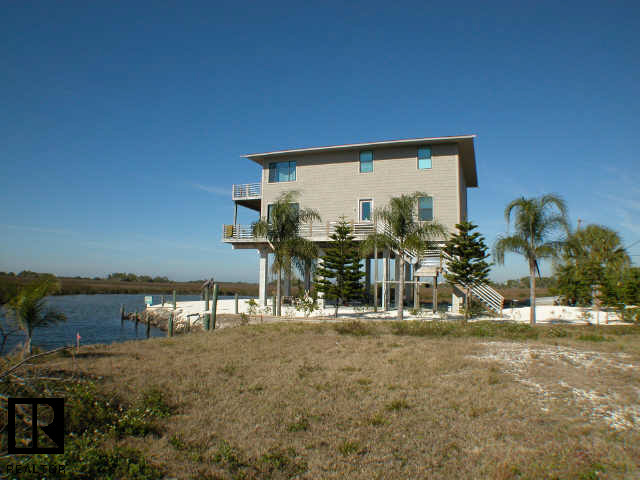 This house has its own private beach! The kind of thing that makes you think of sitting around back in the dorm at college
boldly boasting 'man, when I get outta here I'm gonna put a beach at my house!' --to which your friends
would firmly commit to coming to visit you when you made good on the promise... which at that time you WERE GOING TO DO.
Of course, being that the entire exchange was predicated on the assumption that money somehow
materializes out of thin air, absolutely thin air, for free, from air thin as a vacuum really, only sometimes does it really happen...
but wow, here it is!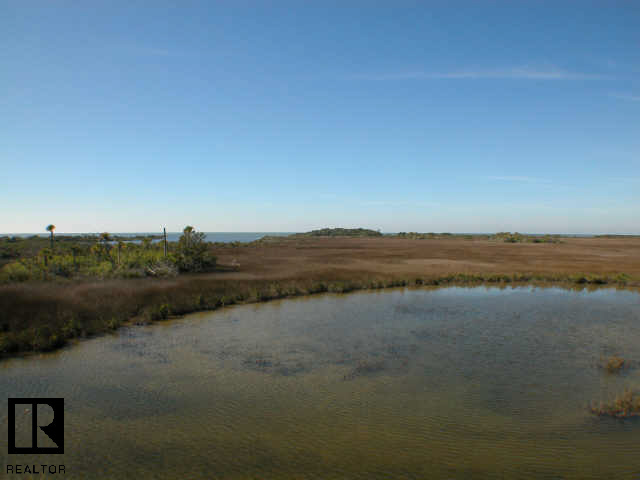 A nice view of the Cape Cay fishing flats (off to the left) and the bird sanctuary (off to the right)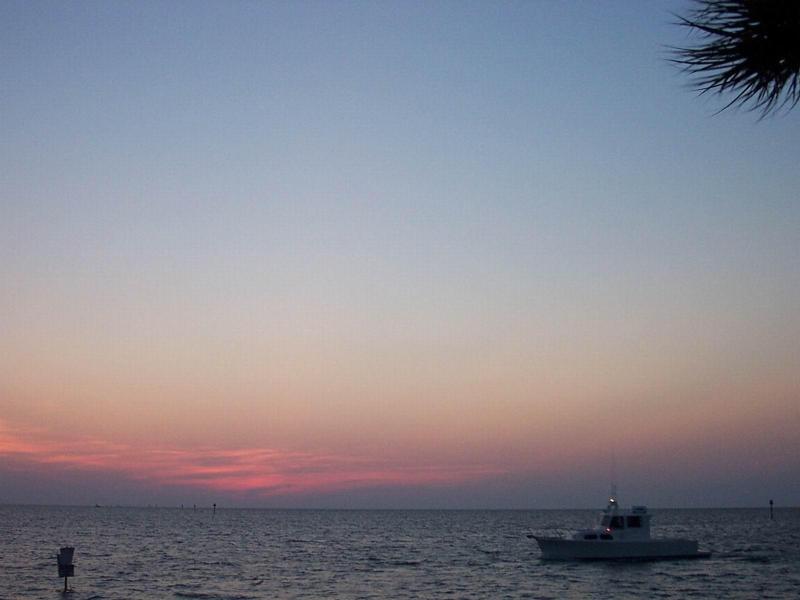 Sunset overlooking the New Hudson Channel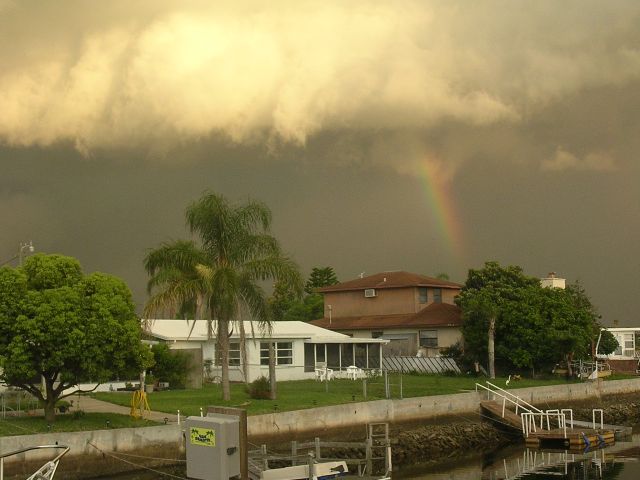 Finally, a rainbow after a thunderstorm reminds us that in the end, its spirit that matters
To See Properties for Sale in Hudson Beach now, Click Here