ERA III: 1905 - 1940
(THE FIVAY RAILROAD - THE BUILDING OF US-19)
PHONE CALLS IN HUDSON AFTER 1910
Alexander Graham Bell's great invention was a revolution in communication for many Americans, but things were a little slow to take off in Hudson. If you wanted to call someone in town, you didn't. You got off of your butt, went to their house and told them in person. If someone from another place was calling a person in Hudson, they called the local store on Hudson Ave. near the marina, (the only phone in town) and hoped that the message would eventually be relayed to the intended person. "It always was."1
BATHING IN HUDSON UNTIL 1950
Wow. "About the biggest problem we have in 2004 is turning the faucet to get the right temperature, and selecting the right soap and shampoo. Unless of course, we are one of those persons who doctors the bath water with half a dozen oils, perfumes, or other preparations in which case you must be a chemist to arrive at the proper proportions."1 Until the 1950's however, rain water was collected in barrels and cisterns for use as bath water. In the rainy season, no problem. In the dry season, problem. Usually, every member of the family bathed on the same day or night and in the same tub one after the other. The alternative was to slay the beast by jumping into the water of Hudson Springs after lathering up from head to toe. But this left a person with a saltish taste, though cleaned.
PROHIBITION
During the Prohibition 1920's, Hudson reprised its role as an area of illegal activity. These same inlets that we fish in today became the haunts of rumrunners, evading the authorities like the pirates and Confederates before them. Ships loaded with Canadian liquor left Halifax, Nova Scotia for "South America" and in reality made its stop in the Gulf of Mexico. From there, the liquor was loaded onto smaller 'runner' boats at night when the Coast Guard was elsewhere. Using binoculars, lookouts watched for the authorities and if spotted, the boats snuck into Sleepy Lagoon, just north of what is now Signal Cove. When the Coast Guard spotted the Rumrunners, they still went into Sleepy Lagoon, because the larger Coast Guard boats could not follow them into the shallow waters. In some cases the authorities on land were notified, but never seemed to arrive on time to make arrests.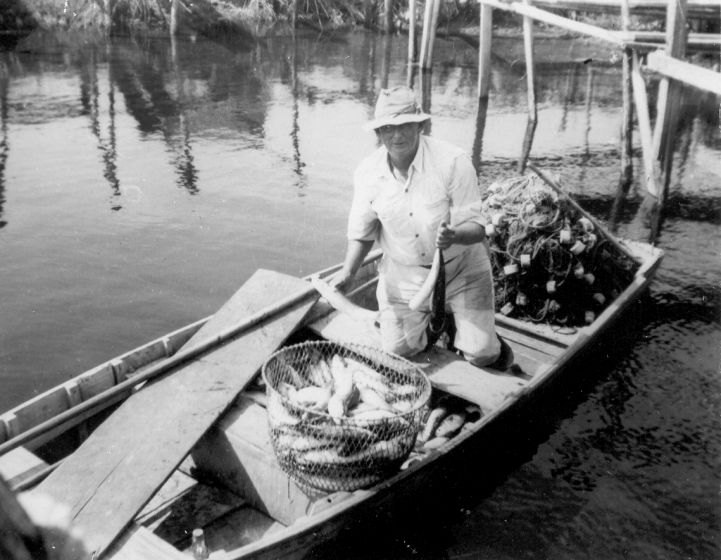 instead of illegal materials, this resident has chosen the right way- fishing
EARLY BUSINESSES AND COMMERCIAL ACTIVITY
We have examined everyday residential life in the late 1800's and early 1900's but what of commerce? First water, then rail, and finally automobiles have decided the locations of businesses. US 19 did not exist in the early 1900's and so the location for business was at the current Hudson Springs Trailer Park, at Pine St. and Hudson Ave. That is where water and rail met. This was the original downtown, now completely gone. Feed stores, a general store, a seafood store, a turpentine warehouse, Dr. Posey's office and many docks to unload fish and sponges onto the RR were located here.
"An interesting story comes to us from the late Ruth Knowles, longtime resident and patriot. She was in charge of keeping ledgers at the stores in the 1920's-40's and these ledgers scream one thing not oft considered: our present system of buying things with credit is not as new as we think! In Hudson, the average store's cash sales amounted to around $3.50 a day. That's it? This is the way it worked: a townsperson who wanted to buy something downtown would have just went in and 'run a tab.' To settle the accounts later, that person would bring in, say, 400 oranges instead of cash. Everyone knew each other so this was not a big issue. Heck, what is money anyway? A 1940 ledger for April tells us that one man received $2.oo credit for five hams, while another did labor for the store-keeper, and was issued advance credit. A carpenter who replaced a platform dock off of modern Canal St. got almost $20 worth of credit at town shops. Against this, he bought a new suit of clothes and food for two weeks."1 The moral of the story: if you don't have money, bring your hammer.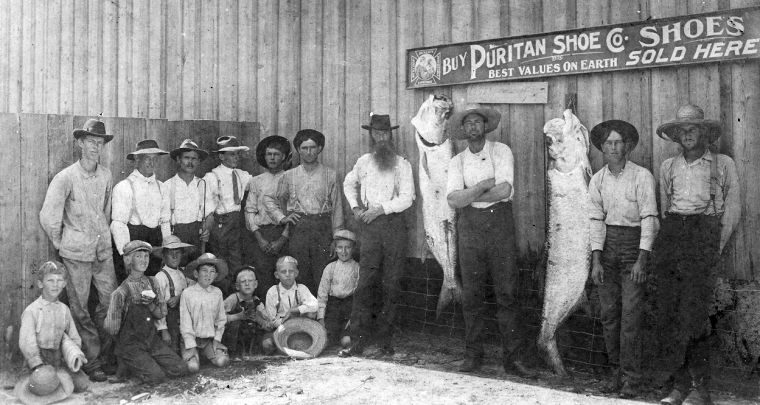 A photo from this time of residents by a store, now gone, in the downtown at Hudson Springs
SHOPPING. Most groceries were bought and sold in bulk at this time. It is funny how they used to sell things in Hudson as well. If you wanted vinegar, you didn't just buy a bottle of it, you had to bring a container from home and fill it up from a vinegar vat in the store. Same with mustard and spices. For milk you bought it from the owner of a cow "for 5 or 6 cents a quart." Vegetables like dried beans and peas were measured out by the store clerk. You could buy candy for 1 cent. Well, modern supermarkets may be fresher and more convenient, but they do add a bit to the cost of food! Oh by the way, the article appearing most on the ledger for April? Tobacco. According to an old timer, "I remember a wooden box filled with sawdust which served as a spittoon for the tobacco-chewing members of the group that loitered near a stove downtown that people used to cook a little for townsfolk before the trailer park was there. Now and then a chewer would lift the lid of the stove and send a jet of tobacco juice into the flames. I could never understand the reason for this as it was so much simpler to use the box of sawdust." Classic Hudson.
Another old timer recalls another interesting point, smells. "Today you can go shopping and not smell any odors, pleasant or otherwise. But back in downtown Hudson, one of the nicest smells was the coffee grinder performing its duty. When someone lifted the lid from a barrel of salted fish, it was time to move to the other side of the store. Calico, spices, everything had an old time smell to it, but these are only memories now."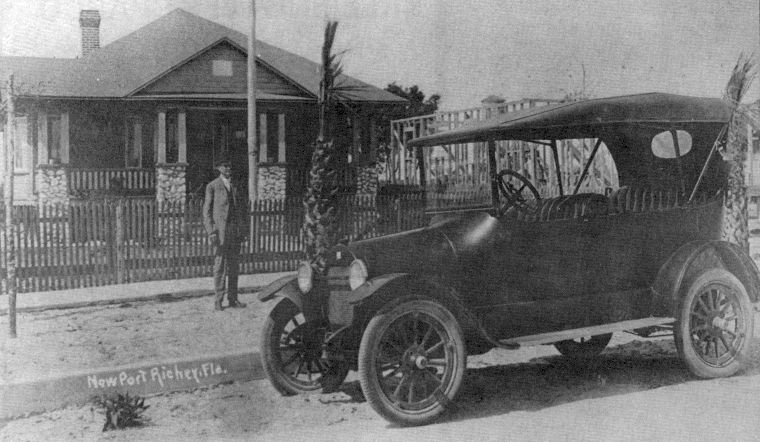 Dr. Posey making a trip from his home in Hudson to treat patients in New Port Richey, 1920's.
INDUSTRY IN HUDSON AND THE FIVAY RAILROAD
Economically, Hudson has had its share of ups and downs. As we have seen with the pirates and Confederates, in the early days water played a very important role. In the early 1900's, boats from Cedar Key, Tampa and Tarpon loaded and unloaded at Hudson. When the railroad came though, things changed a bit. Activity increased because you could now ship to or from Hudson by boat on water, and by train on land.
The Fivay RR was named for the 5 heads of the company that invested in it, because all of their last names began with the letter A. The Fivay RR was built in 1905 and there was a depot just past the shops of Hudson Springs (see picture below) literally 'on the water.' The Fivay RR (long since obliterated) shot into central Pasco where it linked Hudson with the Tampa Northern RR which ran from Tampa to Atlanta, Jacksonville, Miami, Tallahassee and the rest of the country. Look at any atlas made before the 1950's (when highways and automobile-truck transport supersceded railroads) and you'll see the Tampa Northern and maybe even the Fivay there. Now take a look at this extraordinary photo below: A real old style locomotive pulling freight from the Hudson Springs stop (obviously the end of the line!) to Tampa and other places. Hudson merchants and fishermen did a good business because of this train. Can you imagine seeing this today at the Port Hudson Marina?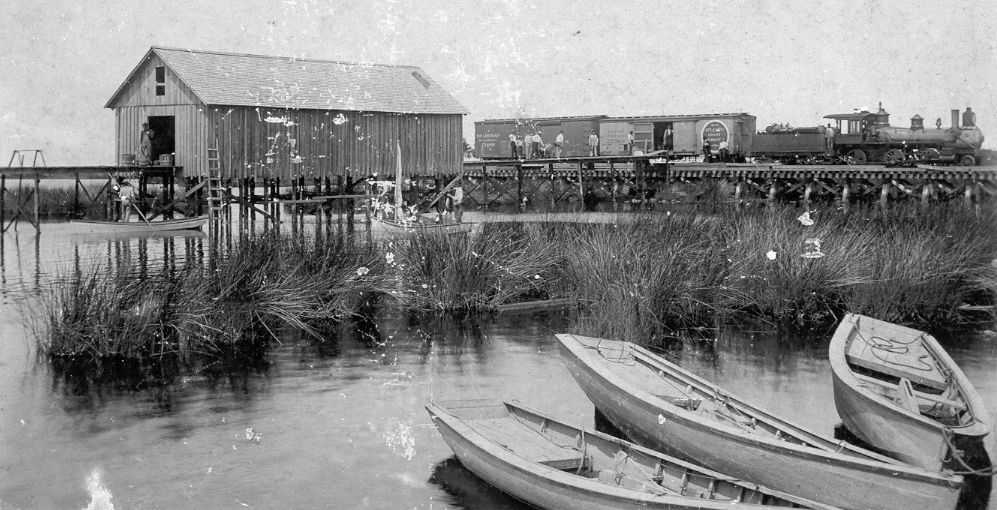 Hudson Springs Terminus- 1920's.
In the 1930's Hudson's most famous landmark was built, since destroyed however: a resort hotel. Downtown at the current Hudson Springs Trailer Park, the Hudson Resort Hotel was host to travelers, hunters, fishermen, and, Major League Baseball players. It is a fact that Babe Ruth took local Hudson people out and fished with them, learning tricks to using a casting rod from a local man, the late Bill Connor.
THE FIVAY COMPANY. The major industry around was located at the current Fivay / Little Rd / SR 52 intersection. This Fivay Lumber Company employed 2000 workers (give or take 1000 depending on the economy). Stories of working at the lumber and turpentine camps in Hudson are pretty funny. It seems that the Pasco County Government and Sheriff's Department were not too interested in happenings in the western part of the county, as the bulk of the population lived in East Pasco, in a flip-flop of today's situation. The coastal region was far removed from Dade City because of those bad roads already discussed, and it was a general rule that the Hudson should take care of itself. My, how sometimes we wish today that the code enforcers and FEMA would take a page out of THIS history book!
At any rate, the Fivay Company punished its own workers. It was the case that often on Friday and Saturday nights the men tended to go on a binge and engage in activities that tended to get out of hand. If the men became too wild in their 'celebrations,' they would be put in detention at the Fivay Company for trial on Monday morning. At that time the 'Judge' brought forth a Sears Roebuck catalog. You can be certain that it was smaller and the prices were lower than the current circulars we get in the mail in 2003. The defendant then opened the catalog and pointed at random, with eyes closed, to a product. This was to be his fine for the misdemeanor(s) over the weekend. "It may have been a 5 cent bar of soap, or a suit of clothes selling for $8.95, but the man on trial couldn't accuse the Judge of being partial as the culprit had selected his own punishment! There was always quite a banter between the ones who got off for a nickel and the others who had to pay 5 or 10 dollars." How important to Hudson was the Fivay Lumber camp? Check out the Pasco County map from 1930 that gives the Fivay Company at 52/Little its own spot! '15' is today's Old Dixie Highway.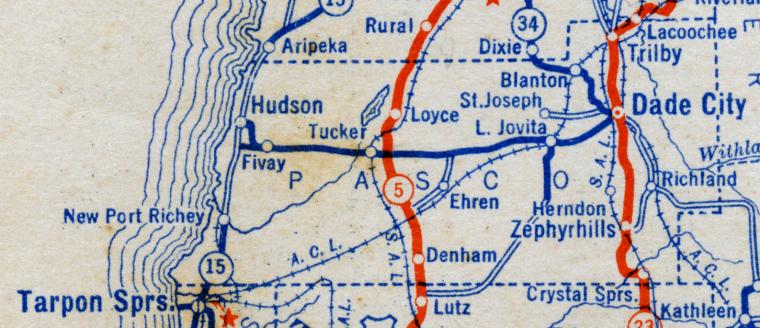 MAIN STREET, USA?
Hudson's main street was Dixie Highway, laid out in 1915. It was a gravelly dirt road that wound through the places in Pasco where people actually lived. Hence the strange course it follows today. We know this street as 595 on the modern map, but in real life, it enters the county north in Aripeka, winds through Hudson as Old Dixie Hwy., connects with US 19 at the Chevron at Sea Ranch, branches off US 19 in Port Richey as Grand Blvd., winds down the Cotee River, and bends west to Bailey's Bluff in Holiday, from which it becomes Alt. 19 (Pinellas Ave.) in Tarpon Springs. Back in 1915 Dixie Hwy. was the only road, and was built for locals not for high speed traffic. Adding a little mileage was no problem if there were some houses on the way. People seemed to be not in as much of a hurry back then. Yet, driving on it with a car was always an issue. "If you got 20 miles with no strut or tire problems you were lucky." Interestingly, in the late 1950's it was renamed to 'Main Street' in Hudson. The Community Club renamed it but the county had an issue of some sort with it, so the name reverted to 'Old Dixie.' Whatever.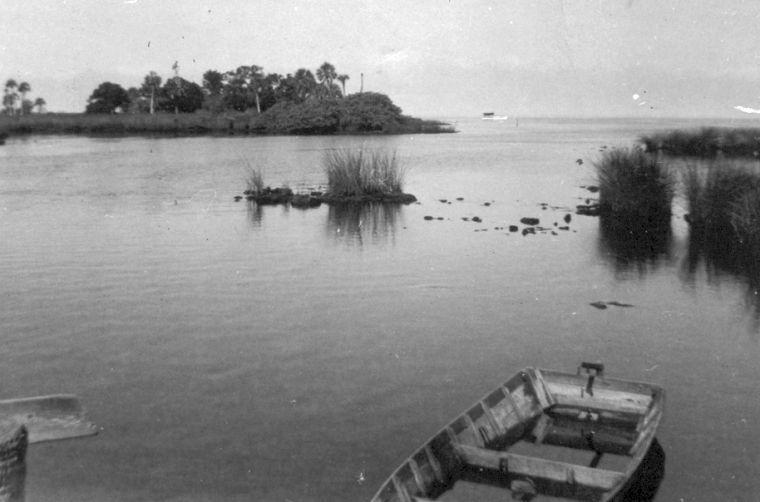 A great old photo of Hudson with a boat that could still be in use!
CONCLUSION OF PART I
West Pasco's Cracker Days lasted a long time. One of the best books about Pasco History is even called, "Florida Cracker Days in West Pasco County." Hudson was relatively isolated, "While panthers, bears, hogs and other such creatures roamed free.1" The rail came (Fivay) and lent itself to putting the area on the map, as we have seen. However, the RR closed, and the town stagnated. The Ku Klux Klan was prominent in Hudson until the 1990's. Seemingly, they have since moved to the next town over, Moon Lake. (Or else, tend to organize in private). It should be noted however, that the population of Pasco County in 1950 was only 15,000 people. In 1960 it was 20,529. Today it is approaching 380,000.
Next Section: Bad Times----------->