THE USA FLEA MARKET
Hudson / Bayonet Point, Florida, 34667
USA Flea Masters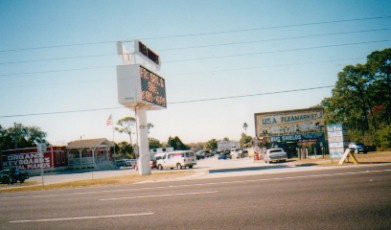 It looks modest from US 19 and the SR 52 intersection, doesn't it? But this Hudson landmark
is a gargantuan indoor / outdoor market in the old south tradition, that has a huge
range of goods not found elsewhere. And what a laid back atmosphere!
In one afternoon of shopping, you will find find anything from Persian rugs, Hudson, Florida T-Shirts, all matter of household wares, tools, antiques, old books, spas, knives and swords etc., car parts, etc. There is an amazing array of stuff here, and if you need a break, relax at the central bar / restaurant, with a full line of draft beers, Italian sausage, burgers and Polska kielbasa.
Below is a sampling of some of the eclectic shops found in this amazing place, covering
acre after acre:
STORE LINKS: The Dragon Den: Pagan Supplies (Which now hosts Wicca 101 classes)
Or, check out what the Flea Market used to look like here...
---
Want more fleas? Check out the Florida Flea Market Directory
---